Cart abandonment is a primary concern for WooCommerce stores. Real data suggests that cart abandonment rates are 69.75%. With this alarming rate, retailers need not panic! Because the solution is right there where your problem lies.

Leave all the stats and imagine a frustrating scenario where seven out of ten customers select products but are walking out of your stores without checking out. So, what to do and how do we start?
There is a way out for this. There cannot be an outcome without a cause.
Address the cause and improvise with the outcome. Statistics show some of the reasons why carts are getting abandoned hence we can jot down the places where we need to concentrate in order to arrive at the solution.
From your side, you have to do two things to increase conversions.
Adapt the best practices in abandoned cart recovery.
Prevent mistakes and frictions regarding customer experiences. 
Continue reading to know more about the best WooCommerce abandoned cart recovery processes in practice by experts.
How to Check Abandoned Carts
Shopping carts with products left in them without buying are abandoned carts.
➬ Reasons for cart abandonment
Expecting discounts, free shipping, gifts, add-ons, coupons
An error in the website or payment gateway
Too many steps towards the checkout
Hassle in return
Payment and Data related security concerns
Thinking about buying it later
Would not like to miss out on the product
Interested in similar products
There can be still more reasons but we need to prioritize and address the most obvious ones.
➬ Abandoned cart recovery emails
An email sent to enable customers to check out their cart is an abandoned cart recovery email.
➬ Reminder email cart recovery?
Cart abandonment happens, and so communicating with your customers regarding the same is going to open up new avenues to promote cart recovery. So you decide to send reminder emails.
➬ The abandoned cart recovery process
Identifying the cart abandonment issue.
Analyzing the major reasons for the same.
Addressing the reasons for the same by taking the necessary steps.
Making use of existing tools like abandoned cart recovery plugins.
Automating the cart recovery process.
Here as we are aware of the reasons and cart recovery plugins are carefully designed to help us with the same. We can immediately start the recovery process.
But before jumping into it we need to decide on using the best-abandoned cart recovery plugin.
How to Choose an Abandoned Cart Recovery Plugin?

Check if your requirements are covered
Ensure if there are good customer support and price transparency
Go for a Light-weighted one
Importantly the one that helps you get started and work with ease
Encompassing features for successful marketing strategies
The one that allows customization and helps you explore what works the best
Get Started with Abandoned Cart Recovery Process
Step 1: Login to WordPress and search for "Retainful" plugin from the dashboard, Install and Activate the plugin.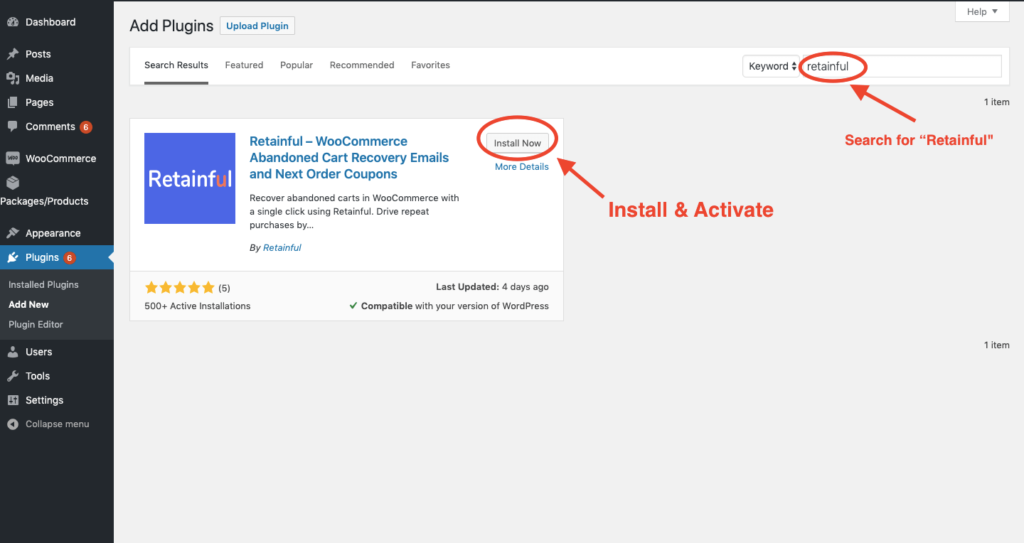 You can also manually Download Retainful abandoned cart recovery plugin.
Step 2: Complete the installation process to get started

Step 3: Sign up at Retainful and log into your dashboard
Step 4: Configure the plugin with your unique APP ID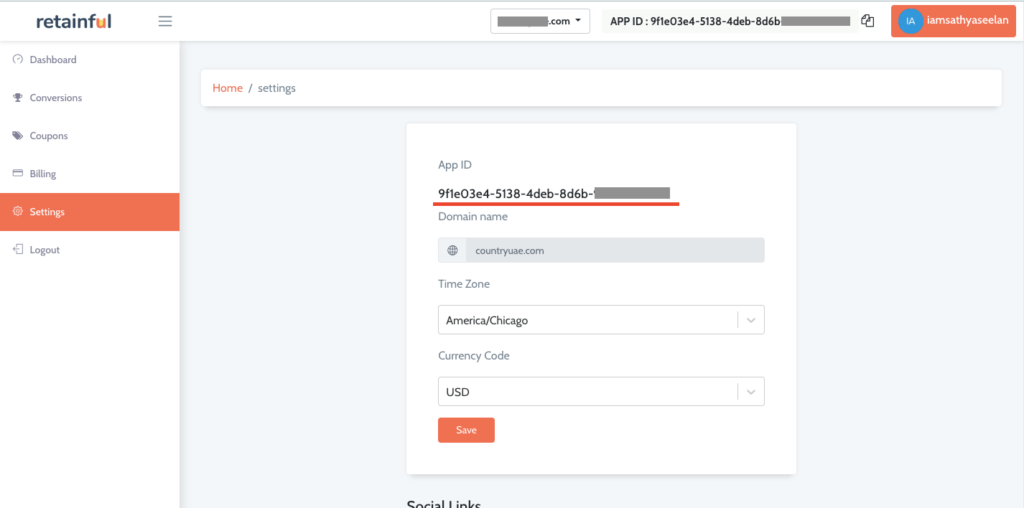 Step 5: Go to the settings tab and choose the abandoned cart settings for your WooCommerce store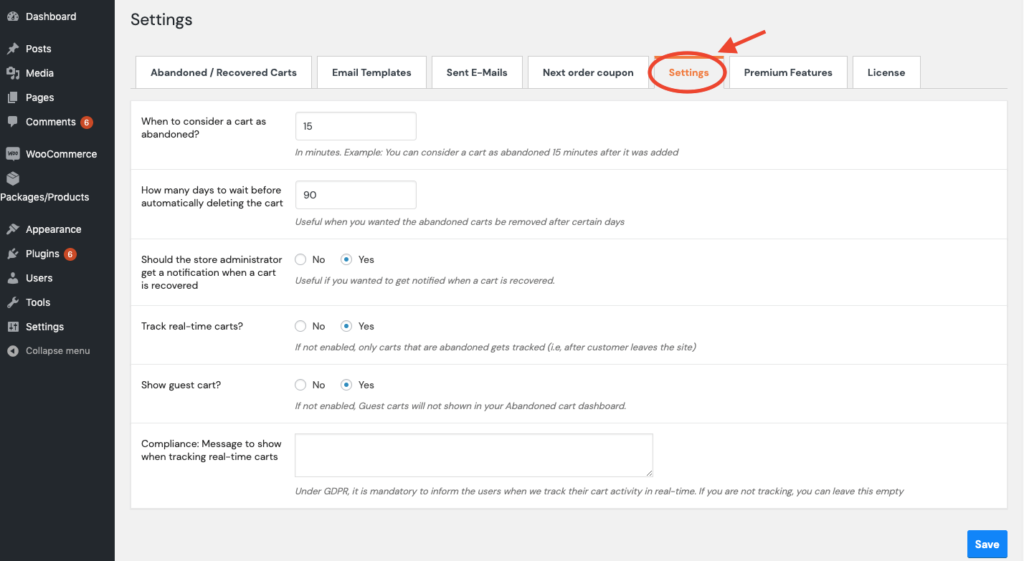 Step 6: Now, choose the "Email Templates" tab in your plugin dashboard for configuring your mailing alias.
Set up the default mailing address before sending WooCommerce abandoned cart emails automatically as shown below.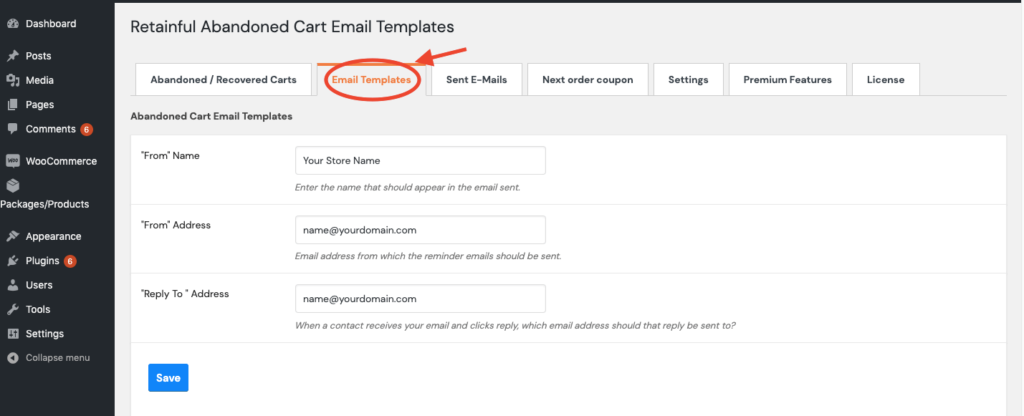 Step 7: Now, enable the email series automation to deliver automatic emails to the customers who abandon their cart. You can also edit and readily use the available pre-designed templates.
Step 8: Choose your most suitable email templates from the pre-designed template gallery and start customizing them.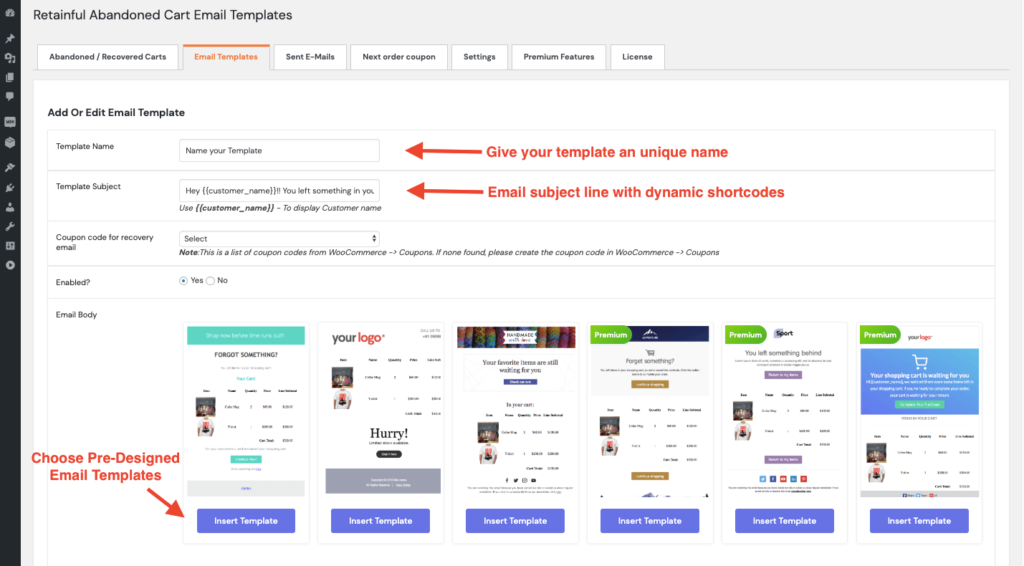 Use dynamic shortcodes and other major customization tweaks using the drag and drop email builder.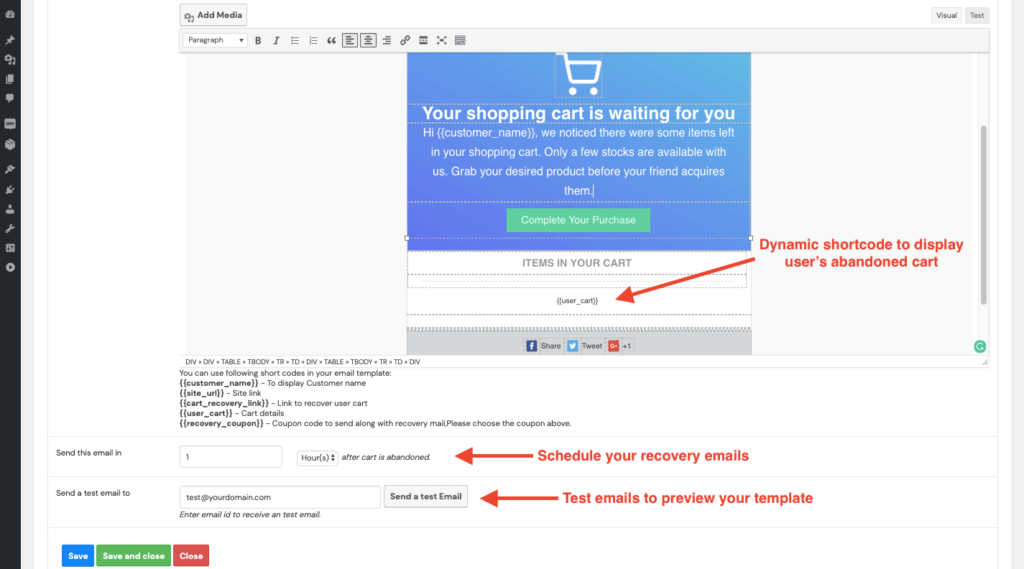 Step 9: Now, customize Next Order Coupon Emails by visiting the "Next Order Coupon" Tab in the plugin settings.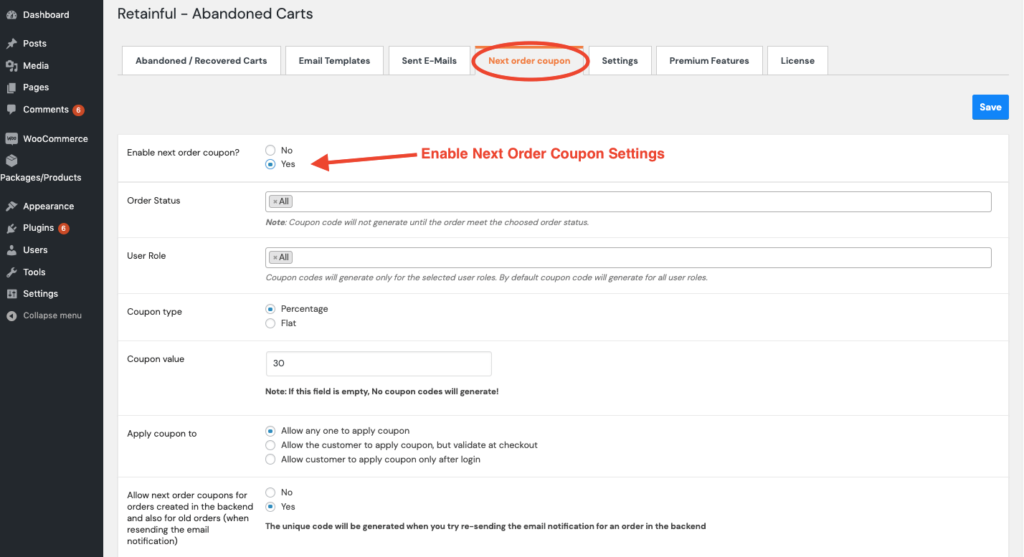 Step 10: You can try sending a test email as well.
Here is the test email output that I experimented.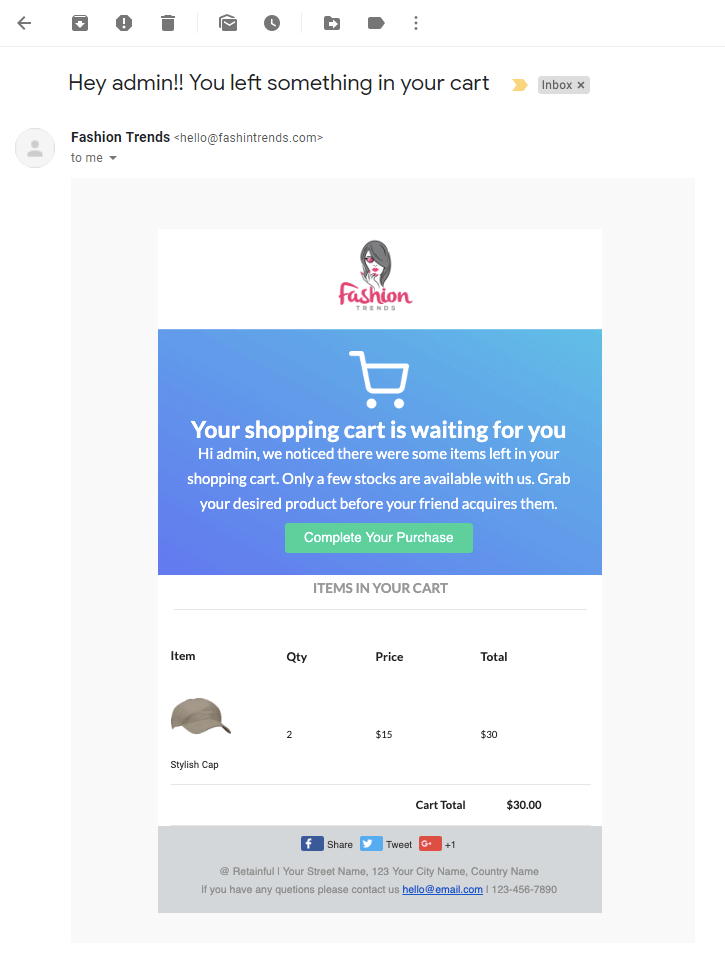 Step 11: Go to the "Abandoned/Recovered Carts" tab to track the performance of your recovery process by comparing the amount recovered during each conversion.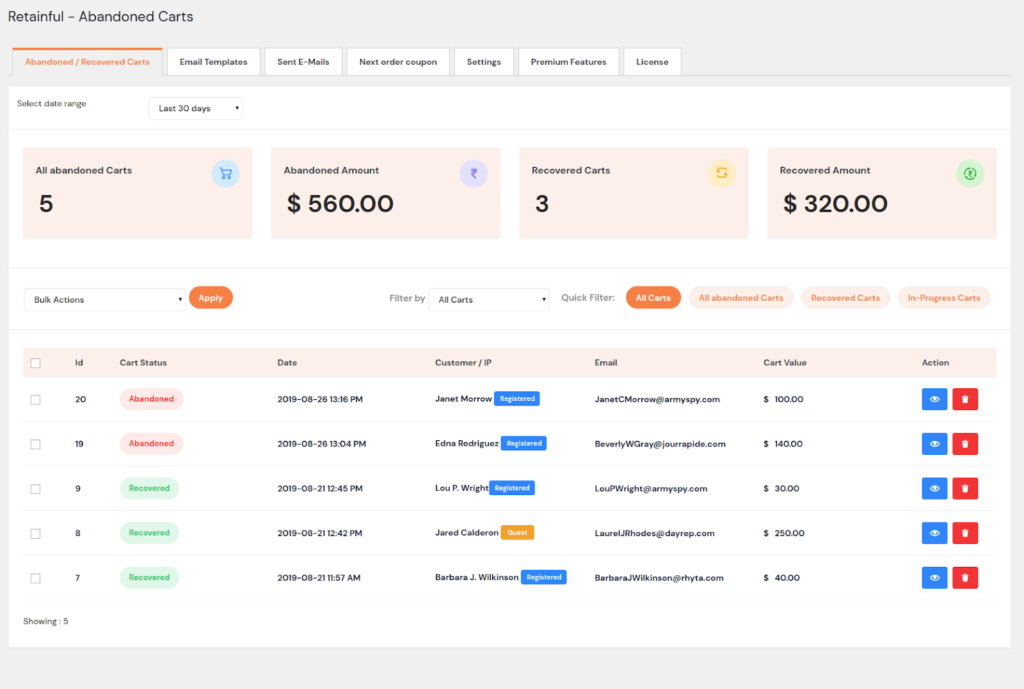 You can rate the recovery performances of mails before and after using add-ons with specifications.
In addition to all these, Retainful premium offers you with much more email templates. It also provides email collection popup, a coupon for email collection and coupon with timer.
How to Customize Abandoned Cart Recovery Emails with Retainful
Before automating, make sure that you consider customizing the following aspects in order to ensure high sales conversion.
Email content
Well-timed notifications
Creating a brand value
Scarcity marketing
Add-ons like discounts
Urgency marketing by FOMO
Simplify the checkout process
Track the performance of your cart recovery process
➬ Email content
Follow template styles known to be successful in recovery.
So, you can either use or take reference from email templates provided in the Retainful plugin.

And if you want to try editing and it is very easy and no coding is required as you have drag and drop option. But keep the following points in your mind before sending emails.
Talk like a human, not like a machine
The subject is the most important part, so start impressing your customer right there
Do mention the customer's name for a better response. You can easily do it by adding shortcodes using Retainful
Make the conversation engaging
Keep the body of the design attractive and crisp with a single click CTA at the right place.
➬ Well-timed emails
Success is time-dependent.
It is recommended to send multiple emails at well defined regular time intervals for better response.
Retainful helps you set up timed email series. Also, note that the email series is stopped as soon as the cart is recovered.
Here is a recommended sequence suggested by eCommerce Experts
First email – 1-hour post cart abandonment
Second email – After 6 hours of cart abandonment
Third email – After 24 hours of cart abandonment
Fourth email- After 48 days of cart abandonment
Fifth email – Either after 4 days or 1 week of cart abandonment

Depending upon your customer behavior and stock availability you can contract or relax the time span of the entire email series.

➬ Create brand value

But, wondering how can you create a brand value using Retainful?
Yes, you can! Add necessary features like brand name, icon, social media links and social proofs like links to your social media posts and its responses in your email templates.
➬ Create scarcity

An indication about the product running out of stock in this template can give a good heads up to buy it convincingly. In addition to this for a successful scarcity marketing strategy, you can also add numbers concerning stock availability, purchases, interests received and so on.
➬ Discount coupons
Cost being the primary reason for cart abandonment, increase the scope of the customer buying a product using discounts. In your cart recovery email, you can include a discount coupon with a coupon code.
Avoiding coupon issues
You should avoid disappointing your customers resulting from a coupon issue as it will directly affect cart recovery.
Retainful has measures to deal with the same as it prevents sending invalid and expired coupons. It also generates unique coupon codes to make it usable only once and the discount directly applies to cart with just a click.
(i). Discounts for next purchase

Using Retainful, give discounts even for their upcoming purchases with Next order coupons and achieve regular purchases at your stores.
(ii). Discounts based on products
Retainful allows discounts to be applied for a specific list or type of product and vice versa.
(iii). Discounts based on customer segmentation
Retainful allows discounts to be applied to carts having a total value at a certain price range thereby incentivizing your customers based on their purchasing power.
➬ Urgency marketing by FOMO
When and why is urgency marketing necessary?
When you intend to convince your customers that this is the right time to buy and to trigger immediate checkout.
How to create FOMO (Fear of missing out)?
Retainful allows you to create FOMO by adding a limited timer or validity for an offer. Try to mention the presence of offer timer, both in the subject and body of the email to speed up cart recovery rates.
➬ Simplify the checkout process

I hope you would not like creating multiple accounts remembering passwords, entering them multiple times, filling up too many fields.

So, Retainful makes it simple by enabling us to add a single click CTA for checkout along with abandoned cart recovery emails. Also, when you intend to include add-ons like coupons, CTAs can be used so that it directly links and applies to the cart where there is no requirement to copy-paste.
➬ Track the performance of your cart recovery process

Use reports to track how successful your marketing strategies are. They help you assess and analyze the performance of your cart recovery strategy by providing data like the revenue generated pre and post cart recovery emails, conversion achieved using certain add ons, cart data and so on. Make use of all those data for the next phase of abandoned cart recovery.
---
What Else Can be Done?

While cart recovery plugins help you recover them, you also need to consider other possible ways that can have additional success points.
Address Payment gateway related issues
Avoid hidden costs like taxes, shipping charges, pending dues
Retargeting products via the customer's search engine & social media feed
Feedback-Driven customer service
Address WooCommerce Website-related issues and loading time
Your store should be mobile-friendly with responsive design
Enhance the look and readability
Summary
The average rate of cart abandonment is high irrespective of which eCommerce domain it is. So, we need to take steps to recover WooCommerce abandoned carts considering the potential revenue yield that it promises.

Retainful with its optimal design helps recover WooCommerce abandoned carts. You can track the performance using reports in order to rate your abandoned cart recovery process.

Helps you have a kick start for abandoned cart recovery automation with easy steps to be followed and readymade templates. At the same time, it allows you to experiment with marketing strategies using various customizable options.

Enhance customer experience and regularly address website issues by this you can use the complete potential of cart recovery plugins.

Suggest some more ideas and do comment if you want to say something.
---
Author byline:
Vidhya, a highly research-oriented content writer works for Retainful. Proficient with content marketing, digital marketing, WooCommerce and, eCommerce domains. Motivated to explore new areas with a focus on data-driven research. You can meet her on Twitter, Linkedin.