It's impossible to think about building a house without tools like a hammer and some nails. Regardless of what you intend to accomplish out of your life, you need to have the right tools in your arsenal.
There is nothing exceptional in blogging, and the Internet has come up with an immense amount when it comes to blogging tools. Having the right blogging tools is crucial for attaining success in blogging, and they will help you make the best out of your time.
However, there are definite tools that are built to make your blogging easier. These are the battle-tested and elegant solutions out there you needed. All the tools listed below are proven and highly recommended by the renowned bloggers whose options I read and trust.
In this post, I put together an exquisite list of blogging tools for beginners to advanced bloggers and sectioned them into different categories. Although there are ample free resources you can start using right away, it also included some amazing paid tools as they are worthy enough to enrich your arsenal.
Ultimate Blogging Tools for Bloggers
Before going into the main discussion, let's get into the list first. Then we will move into the detailed observation.
Now, get back into the details of each section.
Tools | Blogging Platforms
WordPress.Org: This is the self-hosted blogging platform and an absolute beginner's friendly tool. This platform is the most popular in the blogging arena. Over the world, more than 33% of the total websites are built using this amazing platform.
Price: This platform is free of cost but you need to pay for hosting and this will be hosted on your hosting account.
Some Alternate Options: WordPress.Org is by far the best options out there for bloggers; still there are competitors like…
These are also website builder options with fewer opportunities you can have than that of WordPress.Org. Check out the beginner guide to starting a blog from scratch.
WordPress.Com or Medium: For having an entirely free blogging platform you can choose WordPress.Com or Medium.Com. They will offer you far less customization with the free version. They also offer a premium version as well that will extend the features and functionalities. ⏫
Also Read:

Difference Between WordPress.Com and WordPress.Org
Tools | Find and Create Domain Name
Instant Domain Search: This one is a really smart tool to identify the domain name and I personally use this awesome tool. You just need to type your expected domain name ideas in – and you will find the availability instantly!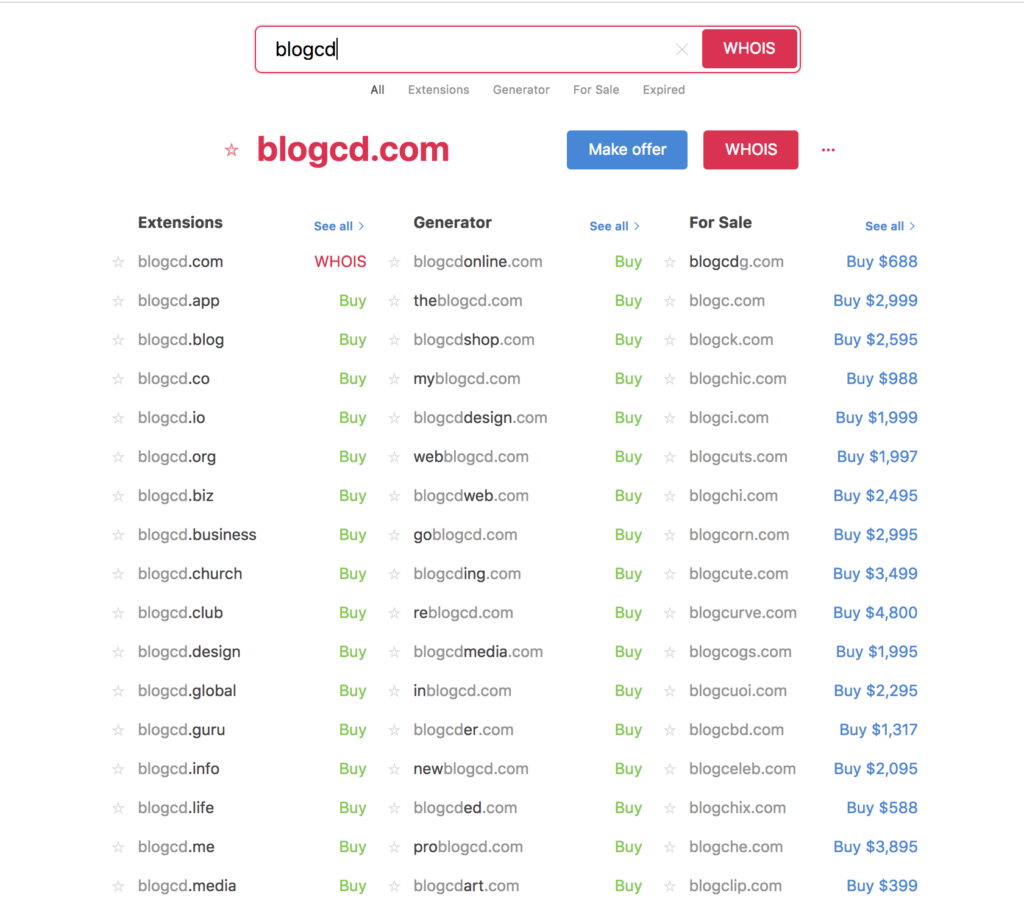 Generally, the red signal means that this typed domain is not available and the green signal shows the availability.
Price: Free of cost.
I always recommend Namecheap to purchase any domain name. For sole domain purchase, you can use Godaddy.
Other Recommended Smart Domain Tools:
[?Pro-tips: Though the contents are the king of any website, I always recommend everyone to use them. Com domain instead of other, as long as it's easy to use pronounce, and most importantly Google-friendly!!] ⏫
Tools | Web Hosting
Bluehost – One of the best hosting providers that can be a great option for bloggers. They have improved their services than that of the past. Now, for beginners, it could be one of the best options ever. For the established blogger, may Siteground could be the best bet still but for the new one, it would be fine to start with the Bluehost hosting provider.

Siteground – Siteground is one of the mature hosting service providers on the planet. This is recommended by most bloggers. They also offer a free site migration facility. Pricing starts at $4/month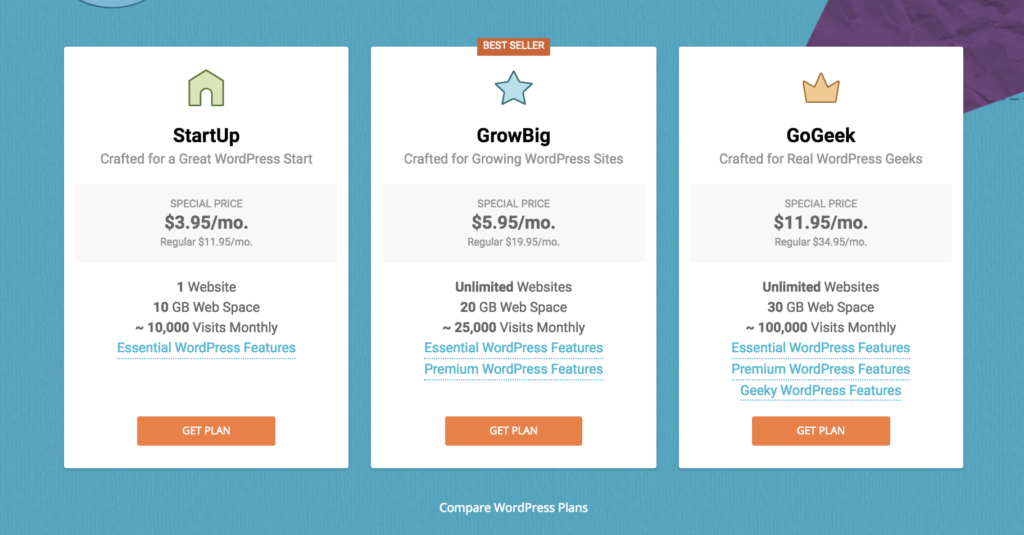 Namecheap -The domain service provider, I suggest as well to buy hosting at Namecheap. They are by far the easiest to set up, wonderful client support system. ⏫
Tools | Images & Graphic Designs
Snappa – This is another amazing online photoshop tool that can be a great option for bloggers to make their photos. The UI is wonderfully well crafted and you will get the auto-resizing option here. Moreover, you will get a built-in stock photo library in Snappa.
Canva – Bloggers usually don't have enough time on designing, creating any images and banners. That's why Canva came into existence to make things easy. You can create any kind of image, banner, anything related to Photoshop.
You don't need to know any photoshop knowledge. You can create your nice images in no time. In pricing the tool is freemium.
Fotor – This could be another smart option for any blogger. This is a free tool by the way.
Sketch – This is a non-browser-based advanced tool for professional designing.
Finding Great Stock Photos for Your Blogs
Pixels – This is a great website for free stock photos. You can get beautiful images for your blogs. You will get all that free of cost.
Pixabay – This is another free site for grabbing amazing photos.
All The Free Stock – Using this website you can have a way to search several stock photo sites at once.
Compress Your Blog Image
Sometimes it's needed to compress the fancy images to make the page loading faster. Here are the two most renowned image compression tools:
TinyPNG – One of the most popular image compression tools ever you can have on the web.
ShortPixel – This is a freemium image compression tool for your website. You can compress 100 images/month for free. ⏫
Tools | SEO
SEO tools function in different ways; here are some of the different functions:
On-page SEO
Keyword & competitor research
SERP tracking
SEO audit
On-page SEO
RankMath – RankMath is simply a revolution for modern SEO days. You can have literally tons of qualified features and functionalities for free. The plugin is going to launch its pro version very recently with more exciting traits. With the release of this awesome plugin, SEO becomes very easy and cost-effective. To rank your website, using this giant plugin could be the best bet for you.
Yoast SEO – This is the top-rated SEO tool and probably one of the most used WordPress plugins. This is a freemium plugin, and the paid version starts its costs from $89.
SEOlium – SEOlium is one of the qualified Rank Tracker tools that is used to catch monitor data to understand and grow your business well. You can have a keyword rank checker tool that is used to search terms and different queries that are a list of phrases. All types of businesses can use the plugin to serve their purposes.
Keyword & Competitor Research
Ahrefs – This is the best tool for the backlink analyzer and this is a premium tool. The plugin is a bit expensive but absolutely amazing for serious SEO bloggers. You can do a bunch of amazing stuff using this awesome tool.
You can do keyword research, content planning, backlink analysis, SERP tracking, Site audit, and so many things.
Price: The pricing starts at $99/month.
SEMrush – A perfect website traffic estimator that also offers solutions for SEO, PPC, social media, content, and competitive research. Moreover, you can use it as a domain authority checker, and keyword analysis tool.
Price: The pricing starts at $99.95/month. You also can get SEMrush free trial for 7 days.
Google Keyword Planner – This is another SEO tool that is used for keyword research, Google competition analysis, etc. The good thing is this tool is free of cost. For a novice, this is the best tool, after being developed then go for Ahrefs.
Soolve – This is an awesome tool for content creation especially it works for suggesting keywords. You can search on multiple search engines at a time.
KWFinder and SERPWatcher – This is also a freemium tool that is used for multiple purposes. You can research keywords, SERP analysis, Rank Tracking, Backlink analysis, Website analysis, etc.
Price– paid version starts its cost at $30/month. ⏫
Tools | Audit and Broken Link Analyze
For the broken link and site audit, you can check the following tools:
Broken Link Check – This is a free broken link checker. The tool will scan your whole website within a minute and also provides handy links to your content- so that you can fix each and every broken link.
Dr. Link Check – This is also a free tool that works as the previous tool.
SEO Web Page Analyzer – This is another smart blogging tool to analyze a TON of stuff on the respective page of your site. ⏫
Tools | Site Optimization and Speed Up
WP Rocket(Cache Plugin) – This is a premium cheap but cost-effective cache plugin I have ever found.
W3 Total Cache – Another free cache plugin alternative. If you are a blogger and want to speed up your site, you can use this tool.
WP Fastest Cache – Free cache plugin that is super awesome in type for speeding up your site.
Cloudflare – This is a free CDN that is used to increase site speed. ⏫
SmarterQueue – This is a smart premium solution for social media updates, and makes sure posts get the maximum reach to grow your business. The pricing of the tool starts at $20/month.
Buffer – This is another freemium tool that acts functionally in the free plans.
TailWind – One of the smartest social media marketing tools that work for Pinterest and Instagram. ⏫
Tools | Security & Backup
WordFence – This is a real tool for protecting your blog. Fortunately, this is a freemium tool. You can have a free plan for your blog.
Price – Pricing of the premium plan starts from $99/year.
Sucuri – This is another alternative awesome tool to secure your blog. This is also freemium and you can get the free version from the WordPress directory.
Price – The cost of the premium version starts from $199.99/year.
Updraft Plus – Freemium site backup plugin, you can get the plugin in a cost-effective way.
???Also, check the ultimate WordPress security guide and how to check a website. ⏫
Tools | Email Marketing & ESPs
Mailchimp – This is a beginner-friendly tool for any kind of email marketing service. This frees up to 2,000 email subscribers. This tool is easy to use and scalable in type.
ConvertKit – This could be the best tool for bloggers. This is a premium tool and the pricing of the tool starts from $29/month.
ActiveCampaign – A premium email marketing tool and this is super awesome for serving your purpose. Pricing of the premium one starts from $9/month for the light version.
MailerLite – One of the most user-friendly email marketing tools that work perfectly to serve email marketing purposes. Here, this tool is free up to 1,000 subscribers. ⏫
Tools | Content & Writing
Beer – This is a distraction-free writing tool for Mac and iOS only. This tool is a freemium tool and the pricing of the premium one starts from $15/year.
Ulysses – This is also a beautiful premium writing tool for Mac and iPhone.
Coschedule Headline Analyzer – You can use this tool for working through different headlines strategies. You can also use AMI Emotional Headline Analyzer as its alternative.
Hemingway – A smart free tool for crafting short and compelling language. Using this super tool is great fun.
Grammarly – This is probably the most used tool for any kind of professional. This is especially for spelling & grammar checkers. Fortunately, you can have a Grammarly free trial version as well for serving your purpose.
Social Warfare – This is a freemium social sharing plugin. ⏫
Tools | Productivity
Trello – Super awesome project management tool that ensures productivity.
Asana – This is another free project management tool.
TextExpander – Premium writing tool for creating shortcut bunks of text. If you need to type things repeatedly, you need to use this awesome tool.
Freedom – This allows you to selectively block Gmail, Twitter, Facebook, IG, etc. This allows you to block unnecessary items. The pricing of the tool starts at $20/year.
Lastpass – A password manager that is a free awesome tool to manage all the passwords you need to manage.
Milanote – One of the qualified tools that can be used for serving numerous purposes including blogging. Using this tool, you can organize creative projects and place them into excellent visual boards. It will provide you a feel like you're working on the wall in a creative studio. Milanote would be a great fit too for designers who work remotely.
Yoink – This is a premium tool for Mac & iOS only in order to make drag & drop files better.
Rocket – This is a free tool for inserting emojis! ? ⏫
Tools | Monetization
Gumroad – Best freemium option for selling from your blog. You can use it for e-commerce or store option – like Shopify.
Thrivecart – This is a premium checkout tool, especially for bloggers. For completing any kind of transaction, the tool is used. The premium version of the plugin costs $600 for a lifetime.
WooCommerce – WordPress plugin for checkout page and it's the most popular tool. The core functionality of the plugin is free of cost.
Shopify – This is a stand-alone e-commerce platform that comes with a premium plan. ⏫
Tools | Landing Page Creation
Elementor – This is a freemium page builder plugin in WordPress.
Beaver Builder – One of the best page builder plugins that come with the free and pro version. This is a super awesome plugin and you will get the free version from the WordPress directory. ⏫
Tools | Themes
Themes are the core tool to display all the contents of your website. Let's have a look at some of the best themes of the time.
Astra – The theme is a fully customizable and lightweight theme for multi-purposes. This could be a great option.
StudioPress – StudioPress is special for its fast-loading, clean, design-friendly, and affordable themes. Of course, you do have some learning curve in some cases, but ultimately you will get the benefits.
Default WordPress Themes – They are simple, fast, and clean. ⏫
Also take a look at:

Best WordPress Themes for Bloggers.
Tools | Courses
Hubspot – Tons of learning materials for digital marketing.
Copyblogger – A Resource site for content marketing.
Neil Patel – He is one of the top content marketers, this site covers all the branches of digital marketing.
Backlinko – A practical resource site for SEO.
Udemy – Very smart online learning platform for having the right online training. Here, you can get both free and paid courses.
Lynda – Another standard online learning platform for having proper online training courses.
TutorialsPoint – This could be another smart platform for online learning.
Coursera – Same case here as well. ⏫
Tools | Content Discovery
Feedly – If you want to be up to date with your favorite blogging resources this could be another smart option.
Pocket – Using this, you can save articles, videos, and stories from any publication, page, or app.
Readatory – This is an awesome sharing platform as you can share your own blog posts. ⏫
Tools | Content Idea Generators
Keep your blog growing with these awesome content idea generators. Here they are:
Topic Blog Idea Generator – If you want to have a solid tool for generating content ideas, then Topic could be the best bet for you. Using the tool, you'll have a number of resources for creating driving content ideas for your website.
Quora – If you need to have any blog ideas, don't forget to surf on Quora first.
Hubspot's Blog Ideas Generator – An easy way to find your expected blog topic. This is a superb free tool.
Idea Flip – Freely map your blogging ideas and get started writing.
Bubble.us – Another brainstorming tool for content ideas.
Google Trends – The most popular and extensive finding tool for knowing the current trend. ⏫
Tools | Mobile Blogging
Parallel Space – You can connect more accounts of the same app on your mobile. You don't need to switch between blogging profiles and personal profiles each time. ⏫
Honorable Mention
haven't finished yet…
The most interesting aspect of this blog is, this resource guide will evolve in the future as the business grows, and we need new tools to be introduced for future needs.
…and neither are you!
Now, you have all the necessary tools you may require for your blog to take it to the next level. The tools I have gathered here are the result of research and exploration of all the dead ends. You don't need to face all the hurdles to do the same.
Conclusion
Picking up the right tools for building the authority of your site is very crucial. So, let's tool up and make your blog up to the next level. I hope this article will add up the necessary values in serving your purposes.
Moreover, if you have any queries regarding any of the tools, please let me know them in the comment section below. I will try to reach out and do my best to help you out.