Are you wondering which one to choose between SEMrush vs Ahrefs? Then, I should say you're in the right place.
When it comes to choosing the SEO tool, there are two pack giants in the market: SEMrush and Ahrefs. Interestingly, they happen to be my two favorite digital marketing tools as well.
There is no gain saying the fact that every stakeholder in the business of SEO such as online marketers, social media experts, bloggers, eCommerce operators, etc definitely need the best SEO tools in order to meet necessary demands which include: boost keyword research, grow the highest organic search traffic, outrank the competition, get the highest-ranking, and ultimately increase sales and profit.
It is also obvious that SEMrush and Ahrefs have gained popularity as the leading tools of the SEO industry. A lot of submissions and debates have been adduced by experts and professionals to prove the supremacy or otherwise of these two gurus in the world of SEO.
Now, before moving on to the next, I would love to share a list of criteria that a considerable SEO tool needs to possess. Then, I'll be discussing these two tools based on the following parameters.
User Interface
Keyword Research
Backlink Analysis
Technical SEO (Site Audit)
Rank Tracking
Competitor Analysis
Customer Support
Trial Period
Pricing Plans
Therefore, in this piece, I will compare SEMrush and Ahrefs against the backdrop of their features and the tasks they provide. This will help to determine which of these can be said to be the best. You'll get this in-depth analysis presented in a very simplistic and easy-to-understand way so that even greenhorns and starters in the SEO business will be able to comprehend.
Before Delving Into the Depth…
Earning more revenue online depends on the traffic you generate on your website. The more you generate traffic to your website the more you are likely to earn revenue. It's a crystal-clear statement, but the question arises, how can you increase your search traffic effortlessly?
Well, the best way to solve the issue is to use quality SEO tools for getting more traffic for search engines. These very specific advanced tools will help you to boost up your traffic, sales, and eventually business.
To make things more convenient, you can try the 2 most profound tools in the SEO landscape: SEMrush and Ahrefs. Most importantly, they happen to be the most preferred SEO tools that can literally solve almost all the issues related to SEO.
If you have enough budget, I highly recommend using both tools. But if you don't have enough budget or don't want to use both the tools, then which SEO tool between these two would be suitable for you? That's why this article aims to help you fix your dilemma.
Now, I'll walk through a comparative study which is entitled to SEMrush vs Ahrefs. Hence, in doing so, this comparison is going to be the best comparison ever written by me. After having a complete reading, you'll be able to know which one to use in order to excel in your SEO performance. So without further ado, let's get started with a general overview of both tools. Next, I'll put them to the test based on the above-mentioned parameters and make you able to decide which tool emerges as the overall winner.
NB: To make the most out of this article, you can use the trial versions of these two tools. It's noted that SEMrush offers a 14-day free trial for BlogCD users whereas Ahrefs isn't offering any free trial but you can make it happen by paying $7 only. Grab the offerings using the following links:
SEMrush: At a Glance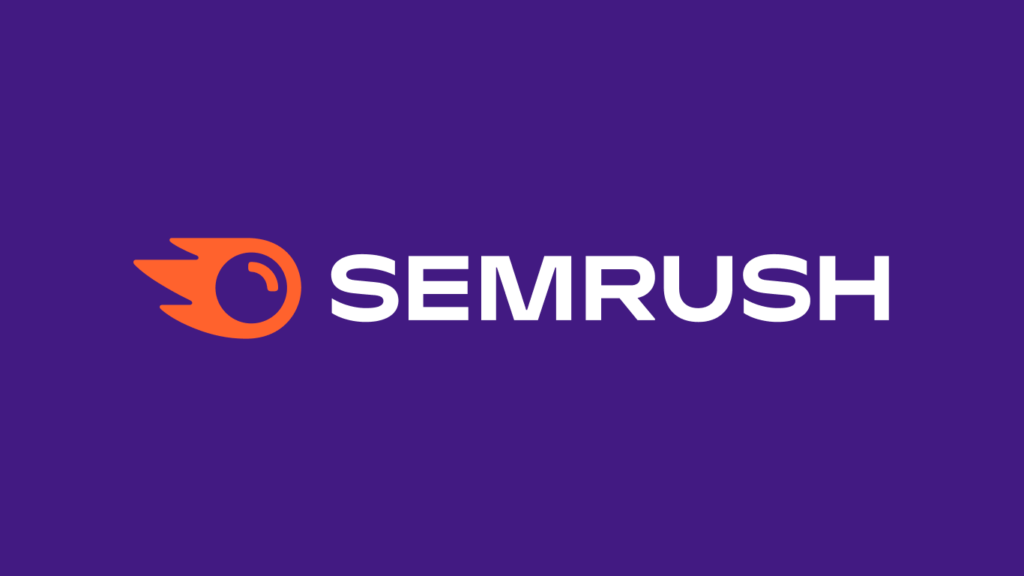 SEMrush was introduced in 2007 under the name "Seo Quake" by Oleg Shchegolev and Dimitry Melnikov. It initially started as a Firefox extension. This was introduced by a small group of SEO and IT specialists for online marketing. Then slowly and gradually they started evolving as a digital marketing toolkit over the years.
Now, from keyword research to link building, and pretty much everything in between SEMrush is a go-to tool for serving your site to climb up Google search rankings and leaving your competitors in the garbage. Investing in this awesome tool could be the best bet for serving your purposes.
Recently SEMrush extended its features with the announcement of a huge backlink database update to their link index. Now, it's bigger, better, and faster than ever. Though it started as a keyword research tool, now it can be used for:
Optimizing site content
Implementing reverse engineering
Analyzing competitor's PPC campaigns
Identifying opportunities for link building
Analyzing log files
And many more!
SEMrush can arguably be described as the leading and most popular research service provider, albeit, mainly for online marketing. It can also be regarded as the most popular SEO tool which is the best for spying on your competitor's ranking. You don't need to brainstorm with the keywords, rather simply putting competitors into SEMrush will get a complete report that they rank for.
? Exclusive Offer: Claim 14 days free trial of SEMrush
Ahrefs: At a Glance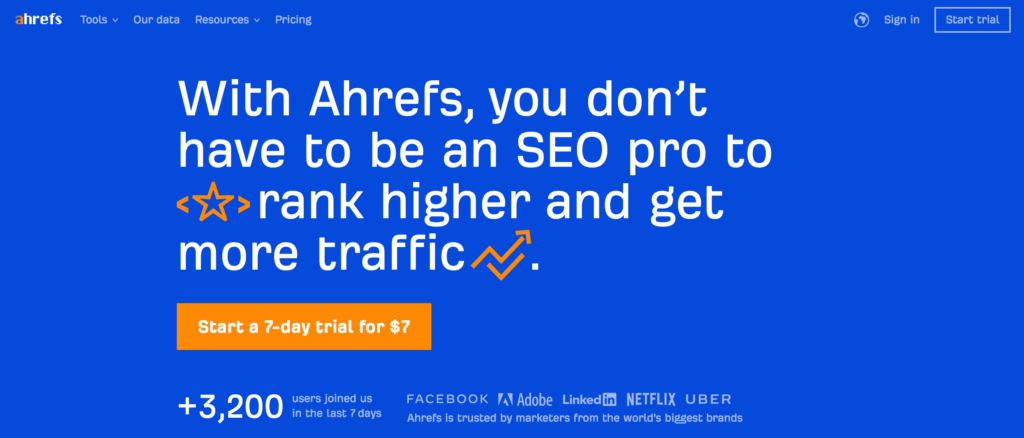 Ahrefs on the other hand was introduced in 2010 primarily by Dmitry Gerasimenko. Initially, the tool appeared as a backlink analysis tool, and gradually it has evolved into an SEO analysis tool that can serve almost all purposes. Now, in terms of backlink analysis, this could be the best online tool ever in marketing out there.
Over the last two years, they have added tons of advanced features and become a fully link-focused SEO tool. Here, are some of the key features that make Ahrefs the prime competitor to SEMrush:
Keyword research
Competitor analysis
Site auditing
Technical SEO
Tracking site rank
With its most user-friendly interface with ease of use can able to obtain data from the web. This tool will help you not only to find the backlink of your site but also of your competitors as well. Being the best backlink analyzer tool, you can do in-depth data analysis for each project you get involved in. But is it enough to consider over the heavyweight SEO tool like SEMrush?
Well, let's figure it out by facing it!
Now, you have got an overview of both the tools. In this section, I'll go deeper with a hair-cut analysis to find out the best one among them.
SEMrush vs Ahrefs: Which Tool is Worth Using?
I stated earlier that both the tools are leading the market in terms of SEO perspective. Let's kick off by considering the user interface first…
1. User Interface: SEMrush vs Ahrefs
The user interface is something that helps users to navigate through the web pages in the best possible way. Both the tools comprise of a standard UI & UX.
Interface | SEMrush
SEMrush bears a quality interface to operate it. As the tool comprises of tons of features and functionalities, the interface could appear as a bit complex for beginners. However, it's not like a squeezy interface, rather it may take some time for newbies. Here take a look at the dashboard of SEMrush: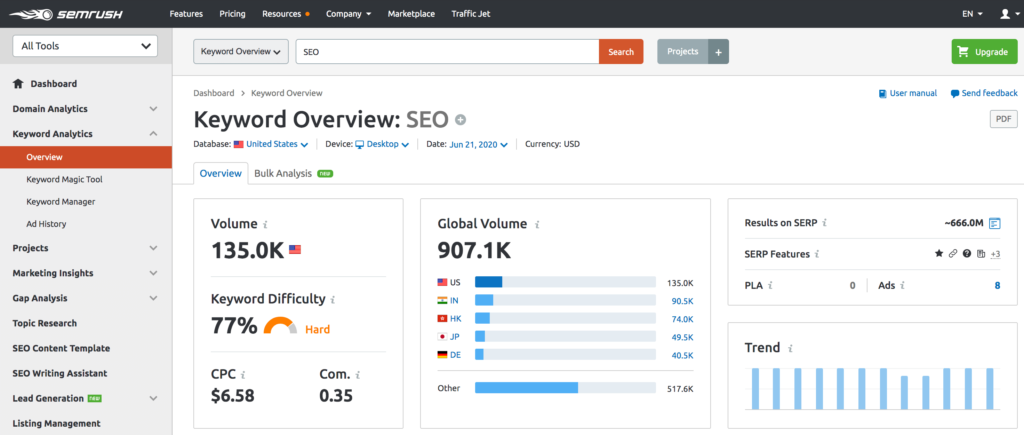 It looks pretty fair to operate things more precisely. Isn't it so?
Interface | Ahrefs
Ahrefs, on the other hand, also does a great job in this regard as it bears a smoother user interface to deal with. Its interface looks clear and much organized which may be favorable for novice users. Here goes for a better understanding: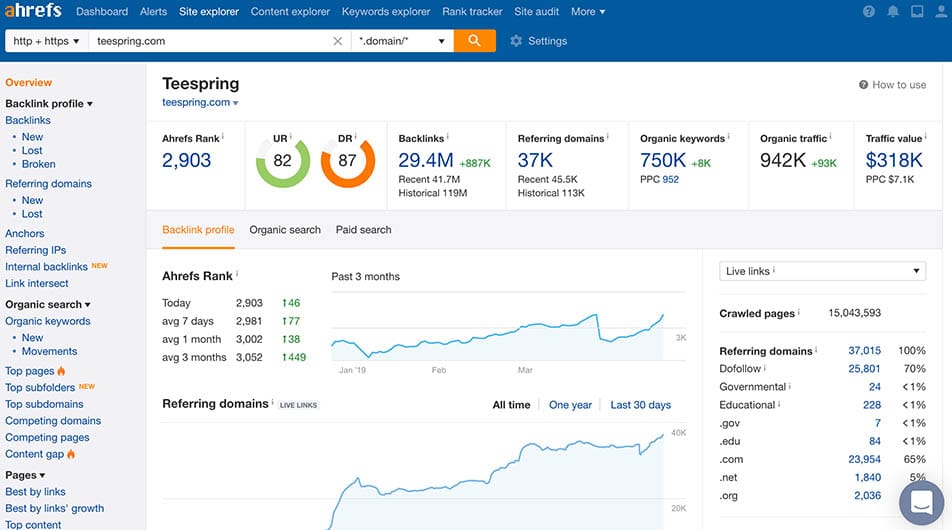 Both the tools bear a quality interface that helps users to operate the tools in the best possible way.
Verdict:
In terms of the user interface, both the tools bear an intuitive user interface for their users. But comparatively, Ahrefs looks pretty much beginner-friendly whereas SEMrush could take a bit more time for a novice to get used to it.
2. Keyword Research: SEMrush vs Ahrefs
Keyword research is fundamental but the most significant aspect of SEO. This is where the optimization process starts. It allows you to get deeper and understand your target audience. Keyword research will teach you how users are searching for specific content on the web.
Becoming an expert on keyword research enables you to craft user-centric content for your website. Both the SEMrush and Ahrefs have worthy keyword research capabilities. SEMrush has its specialty in overall keyword research whereas Ahrefs made it significant with Keywords Explorer which is doing good.
Keyword research | SEMrush

SEMrush is essentially a keyword research tool that appeared on the web. Its keyword overview report provides you a quick digest of all major keyword metrics for that keyword. The keyword metrics include CPC, volume, competition in paid search, advertisement copy, top-ranking pages, and so on.
SEMrush keyword research tool comprises of following extended features:
Keyword magic tool
Keyword manager
Keyword difficulty
But to have a solid flavor of keyword research capacity, you need to use more additional tools as follows:
Topic Research
Keyword Magic Tool
Keyword Manager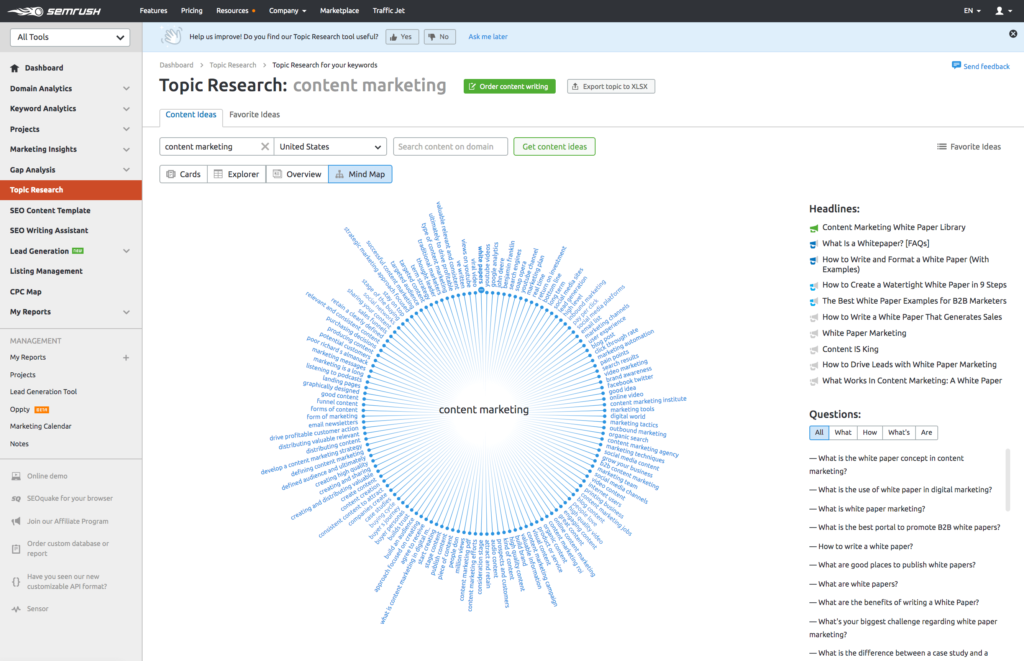 Topic Research allows you to access tons of content ideas for a specific you search on. To start with the topic research, you will get a search box to put the keyword and hit the Get content idea button to have a list of subtopics under the given topic. Isn't it so cool?

One of the interesting things is the content ideas are shown in the form of different cards with the suggested subtopics. You will get the most popular subtopics based on the last 60 days on the web. Moreover, to see the trending subtopics first, you should turn on the Trending topics first as follows: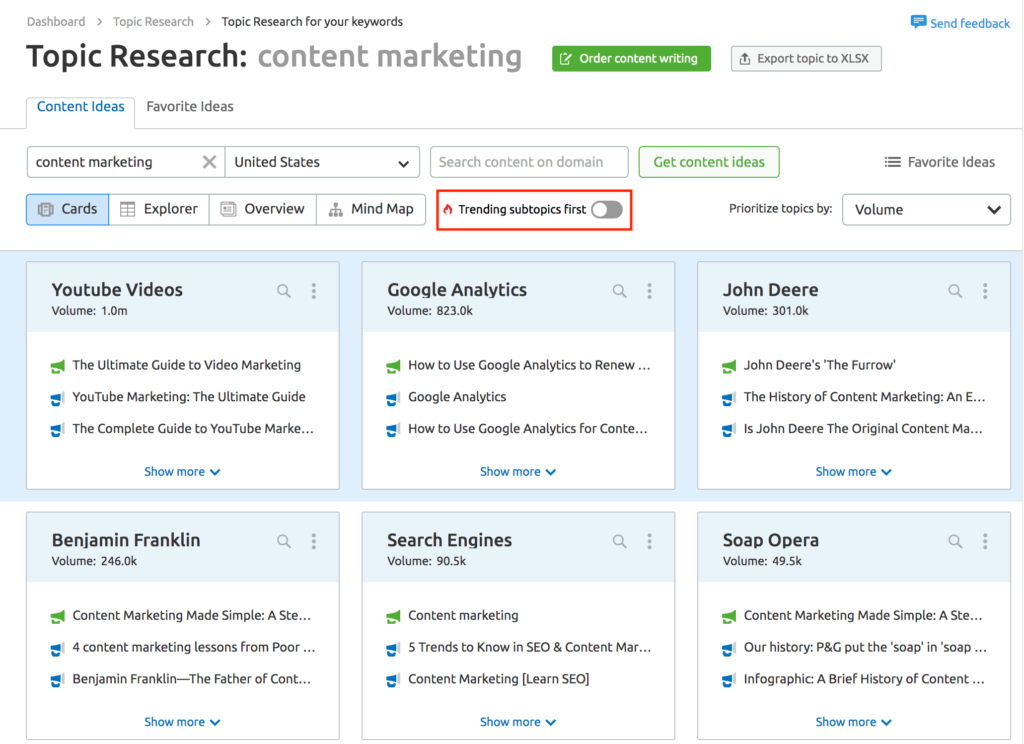 As you can see in the above image, all the subtopics card scans sort out by volume, difficulty level, and topic efficiency. By clicking any of these cards, you will get a lot more info like related searches, questions, and headlines.
Using the Topic Research tool, you can also specify the location down to the city specifically to target your search audiences. The view from the subtopic cards can switch to Explorer, Overview, and Mindmap.
Keyword Magic Tool is another incredible feature under the keyword research of SEMrush. Currently, it supports 118 databases with more than 18.9 billion keywords across the web. Using this awesome tool feature, it would be handy to identify the right keywords for the right articles.

If can exclude keywords that aren't relevant to your campaign. You can easily segment different groups of keywords for your seed keywords located in the left sidebar on the result page.
At last, once you're done with figuring out the right keywords for your articles, you can add them to the Keyword Manager to have more precise shortlisted keywords.
Furthermore, you will get the following additional opportunity to sharpen your keyword research capacity:
Getting a quick keyword analysis
Building keyword master list
Monthly Search Volume
Keyword Difficulty(Finding a competitive edge)
Keyword overview
Advanced filtering
Organic Traffic Insights
Paid Search Data Including CPC(Cost Per Click)and Competition
PPC ad research
Finding competitors, especially discovering organic competitors
Finding paid competition for any domain (Analyzing competitors' paid keywords)
Analyzing keyword gap
CPC Distribution
Finding the trend for the Keyword
Position tracking
Organic traffic insights
Using Sensor tool in order to measure volatility in SERP
Traffic analytics
In terms of keyword analysis parameters, SEMrush provides a ton of advanced features and functionalities for its users. Especially, building a keyword magic list using Keyword Magic Tool is the term card for SEMrush to beat all other competitors out there.
Keyword research | Ahrefs
Ahrefs offers two keyword research features named Keyword Explorer and Organic Keywords for serving keyword research objectives. Keyword Explorer is mostly similar to other keyword research tools on the marketplace. It works simply, put the keyword in the search box, and get a list of versatile ideas.

Then you will have to find core data set for your seed keywords along with a list of keyword ideas and search volume.
The most important aspect of keyword explorer is it provides the search volume, keyword difficulty, and how many clicks you may get if the keyword rank on the SERP.

It starts with a simple dashboard where you need to type your keywords into the search box, and you can set the location you want, then hit the search icon.
As it shows the click metrics to track along with other metrics, it becomes exclusive in that part. Another cool thing about keyword explorer is its ability to expand the results into the hundreds of different keywords ideas.

Moreover, you can match phrases while researching keywords. Exact match keyword research can be done with newly discovered keywords. Apart from getting several keyword ideas, you will also find topics you desired for.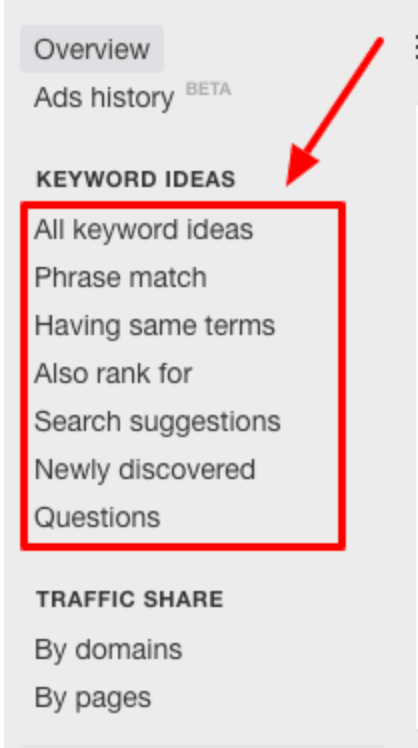 Here are some of the keyword ideas that can be done using Ahrefs:
All terms of keyword ideas.
Ability to research top-ranking keywords.
You will have search suggestions via autocomplete feature.
Discovering what keywords your competitors already rank for.
You also can discover unique keywords you can target using one seed keyword
Finding parent topic
These are some of the core features of Ahrefs in terms of keyword research tools.
Verdict:
To sum up this section, I would say, both the tools are great as usual but I should be more specific as we need to come to a decision. Honestly speaking, after evaluating these tools in terms of keyword research, SEMrush knocks it out of the park.
It doesn't mean Ahrefs is bad at all, rater SEMrush excels with a whole different approach when it comes to researching keywords. Ahrefs shows only search volume, click metrics, CPC, keyword difficulty for a seed keyword, whereas SEMrush goes beyond that what Ahrefs provides. So here, SEMrush wins the race.
3. Backlink Analysis: SEMrush vs Ahrefs
Backlink analysis is one of the core marketing parameters of link build building. Creating a solid link-building strategy could be a very tedious job if you don't use a proper tool for backlink analysis.
Analyzing your own domain and competitors' domains enables you to stay on track in the race. It allows you to find the weak points of you and the strong points of your competitors. Eventually, you can have better plans in order to beat your competitors.
In terms of backlink analysis, SEMrush has upgraded its features and now it would be a tough thing to decide which is going to be the best one. If I write this comparative review one year back, it can be said, Ahrefs would have won the battle. But with the newly expanded link index feature of SEMrush, they are now much stronger enough to fight for the place.
Take a look at the detailed discussion so that you can come to a perfect solution out of the article.
Backlink Analysis | SEMrush
It was been for a long time SEMrush was the weakest backlink analysis tool in the SEMrush SEO toolkit. Over the years, it has been evolved and in 2019, they came to a major upgrade in the quality of their backlink database.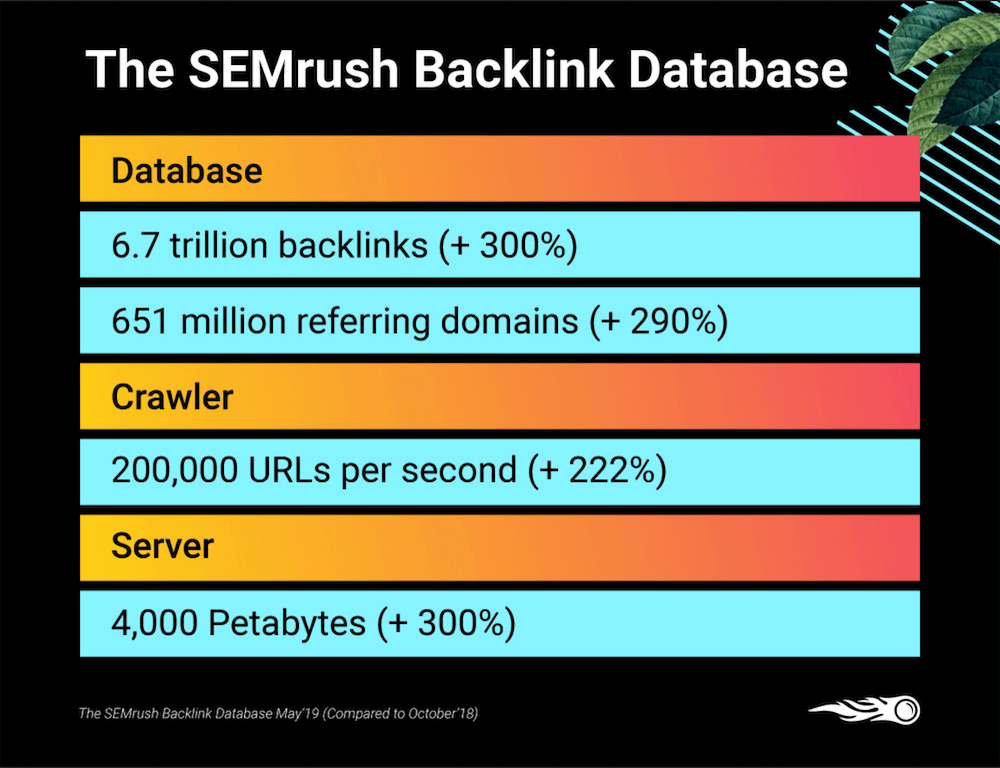 The process backlink analysis is pretty simple here, you just need to enter your domain in the search box and choose the Backlink option from the dropdown menu; then hit Enter button. Once you're done with the click, you will find an overview of your entire backlink profile with the total number and referring domains, monthly visits, and keywords to your website.

This is how the SEMrush backlink analytic tool will immediately display an in-depth overview of the corresponding backlink profile. This report provides you with a deeper understanding of your backlink profile. By clicking the view full report button you will get a total number of backlink reports at the same time you can get the same report of your Referring Domains.
Here is the short list of what you get for your domain:
Backlink types (texts, images, form, frame, etc)
Total number of links
Link attributes (do-follow, no-follow, sponsored, UGC, etc)
Referring domains
Top anchors
Referring IPs
Categories of referring domains
Authority score
New and lost backlinks
As per your competitors' backlink analysis, SEMrush also enables you to find your competitor's backlink sources. Just click on the Backlinks tab, you will see a list of all the backlink sources of your competitors. This is as simple as what you do for your domain!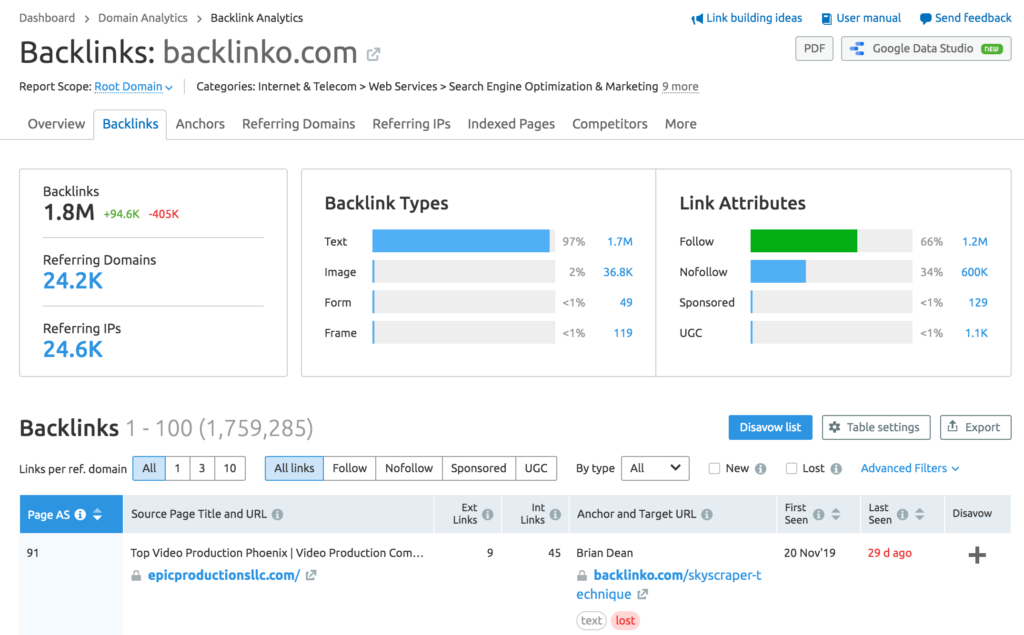 Just by putting the competitor's domain on the search box, and clicking on the Backlink tab, get the backlinks, referring domains, referring IPs, and all that you need.
SEMrush Backlink Analytics also enables you to find relevant competitors for the domain you entered. When you click on the links of all the related competitors, you can find their backlink data. Through this, you can continue to analyze all the relevant sites in your industry.
Backlink Analysis | Ahrefs
Ahrefs offers Site Explorer to analyze backlinks of a particular domain. It's a pretty simple and handy process to get backlink data using this awesome tool. If you want to see the backlink sources of any domain, simply click on the Backlinks section which is under the Site Explorer.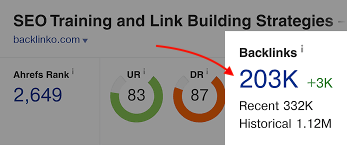 Even if you want to explore the backlink of a particular page/URL, you can also make it happen accordingly. Here is the backlink report of an individual page of the backlink where the article is written on the skyscraper technique.

If you want to get overall backlink sources of a particular domain, whether it's yours or your competitors, you can get those simply by clicking on the Backlink section under the site explorer. Moreover, you can find new and lost backlinks of any particular domain, choosing filters would allow you to find attributes like do-follow or no-follow links as well.
Here are some of the core attributes that include:
Referring to domains & pages
Dofollow & nofollow links
Easy to understand search result
Gov links
Edu links
Tracking the total number of crawled pages
Furthermore, if you want to identify the competitors' anchors for backlinks, you can easily find this from Ahref's backlink profile.

In brief, Ahrefs does provide enough opportunity to have data for backlink analysis.
Verdict:
In terms of backlink analysis, again, both are really doing great! Though one year back SEMrush was weaker than Ahrefs does, now it has become more competitive over time.
According to the analysis that happened bu the Backlinko site, they tested through their site using these two tools to measure the performance. They figured out that SEMrush found 19,114 referring domain links whereas Ahrefs found 17,463 referring domains.
Furthermore, when it comes to measuring collective backlinks, SEMrush found 714,477 backlinks, whereas Ahrefs found a total of 54,444 backlinks. Therefore, based on this diminutive case study, it can be said that SEMrush has a larger link index than Ahrefs.
With that saying, we can't say that Ahrefs isn't competitive enough, this is one factor that shows the tools provide a pretty similar result. On the other hand, UX also matters a lot where Ahrefs does a great job. It allows its users to inspect and get the best links with a few clicks.
After analyzing all the possible aspects relating to the backlink analysis, I think SEMrush and Ahrefs are tied.
4. Technical SEO (Site Audit): SEMrush vs Ahrefs
The next important parameter of assessing these awesome tools is technical SEO. It's a very crucial factor of on-page SEO that deals with the crawling, indexing, and rendering phases of a website. Technical SEO is more often overlooked and replaced by some common SEO practices like keyword research, and link building process.
There are a couple of more things to be considered in technical SEO. For instance, site structure, site speed, XML sitemap, SSL health, and so on. Let's assess which tool does great stuff in terms of technical SEO.
Technical SEO | SEMrush
SEMrush is special for its site audit capacity. It will provide you an overall site health score that gives you an appropriate idea about SEO-friendliness. Moreover, you'll get a list of on-page issues that helps your site to cut a solid place in SERP.
SEMrush site audit tool comprises 130 checks and finds out the technical issues that need to fix up. These checks are related to different on-page attributes like h1 tags, meta descriptions, image alt tags, hreflang conflicts, formatting errors in sitemap.xml files, issues with robots.txt, and so on.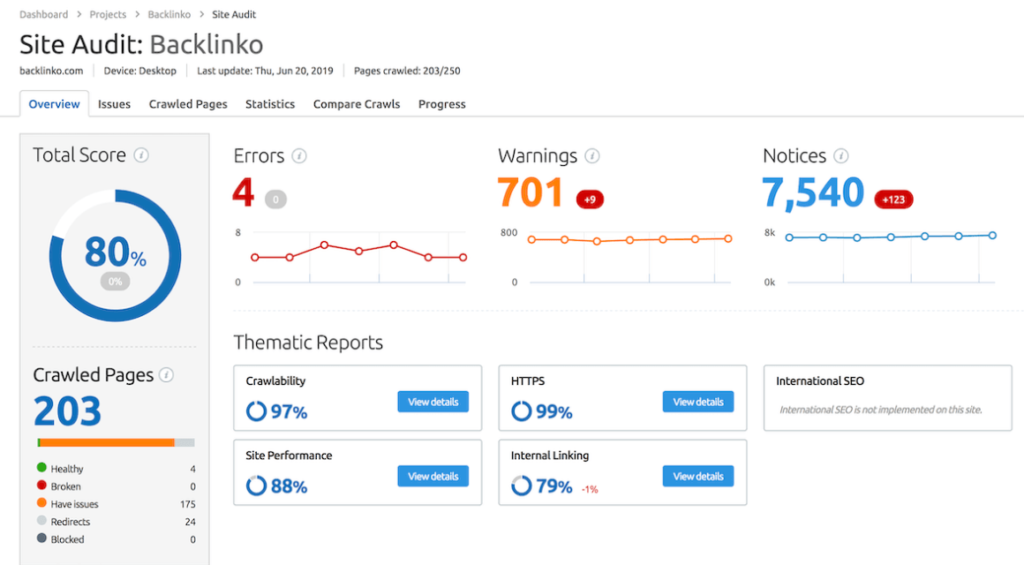 SEMrush allows you to run a site audit in a handy way. You just need to create a new project, then choose the Setup button under the Site Audit section. Put the necessary information and hit the Start Site Audit button to execute the process.
Once you execute the process, the system will return with an overview report within a few minutes. You will see the total score of site health based on the ratio of the discovered issues of the consecutive checks. Awesome! Isn't it so?
Not only that, but SEMrush also provides a super cool internal link distribution report facility for its users. The report tells you about how well your internal links are set up for boosting your SEO performance.
You will also learn about the flow of your site's link authority. This will let you know that your site is heading in the right direction in terms of link authority. After having solid data by running a successful audit about your site, you can take a competitive decision
Technical SEO | Ahrefs
Ahrefs on the other hand got the new addition to its platform for the site audit. Basically, it crawls the pages of your website and analyzes your website based on 100+ pre-defined SEO parameters. After finishing the audit, Ahrefs will provide you with an overall report.
The report consists of SEO health score, key data charts that show all the potential SEO issues of your site. The tool also provides healthy recommendations on how to fix those issues.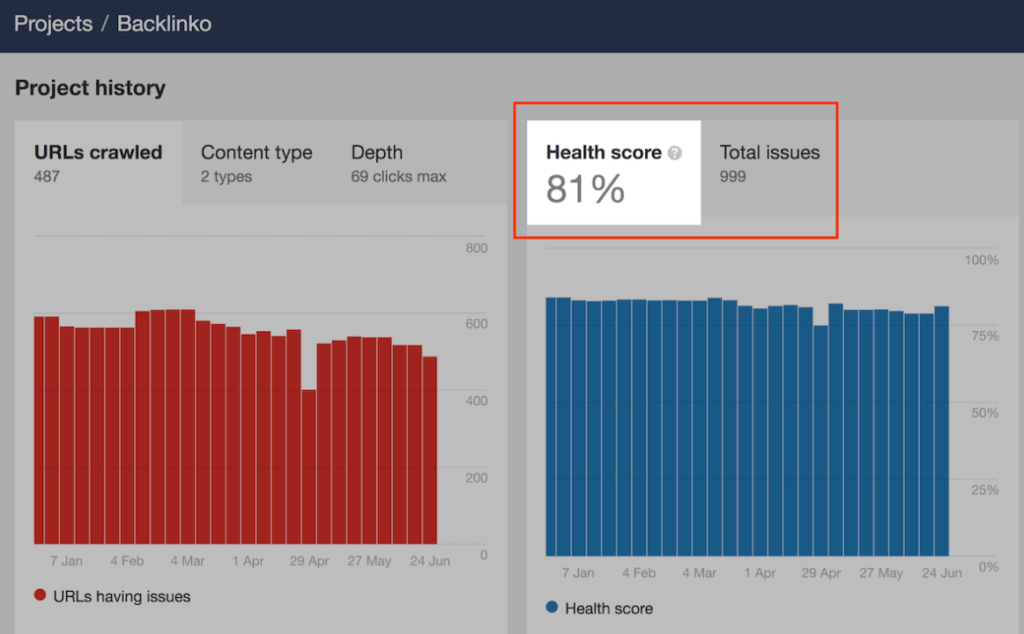 Recently, Ahrefs has added a new feature named Site structure that provides users know how deep and cool different pages from your homepage.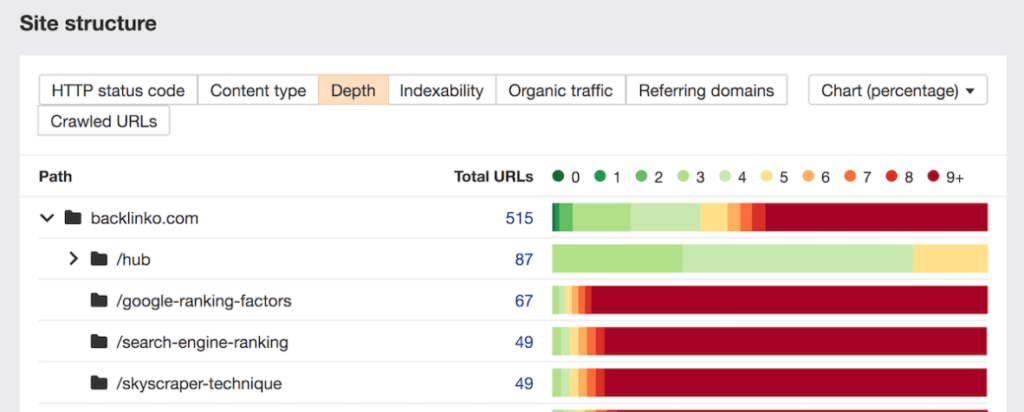 That's how you can have a general site architecture so that you will understand that your site has pages that are getting better clicks than the home page and take the necessary steps to fix the issues.
Verdict:
As per the technical SEO feature, SEMrush comes out on top of the market. Though Ahrefs does a great job of providing accurate results. SEMrush possesses some extra features and an exclusive Site Audit tool that is worth using for serving your purposes.
5. Rank Tracking: SEMrush vs Ahrefs
Suppose, you learned SEO tactics and implemented them on your website; now how can you assess the impact of all that you have applied? Rank tracking or SERP tracking is a way to track the visibility of your site in the search results. This will help you to identify whether it's working or not.
The process also lets you know who is your prime competitors and what they are implementing. SEMrush and Ahrefs are providing such features to their users. Let's see which one is better for the rank tracking feature.
Rank Tracking | SEMrush
SEMrush uses a position tracking tool for tracking your rank based on the target keywords. Simply you need to put all the keywords into your content and track your position based on these keywords for any location or multiple devices.

This position tracking tool provides three main metrics for each of the keywords you used in your content. The three metrics are Position, Estimated Traffic, and visibility. It will also show you the best-performing keywords for your website.
By clicking the Overview tab, you can see the in-depth data in terms of ranking. In fact, SEMrush has some additional features that other tools don't provide.
Rank Tracking | Ahrefs
The Rank Tracker of Ahref works like any other rank tracker that helps to keep track of your targeted keywords based on multiple locations. It works for all devices and allows you to add a "project" and track rankings on specific keywords on specific websites.
It also performs the following functions:
It helps you monitor competitors' rankings.
Helps your rankings only in certain locations or on certain devices.
See your position across all tracked keywords.
Enables you to know how much traffic you have
Its exclusive position history charts let you know how you are ranking for a particular keyword set over time.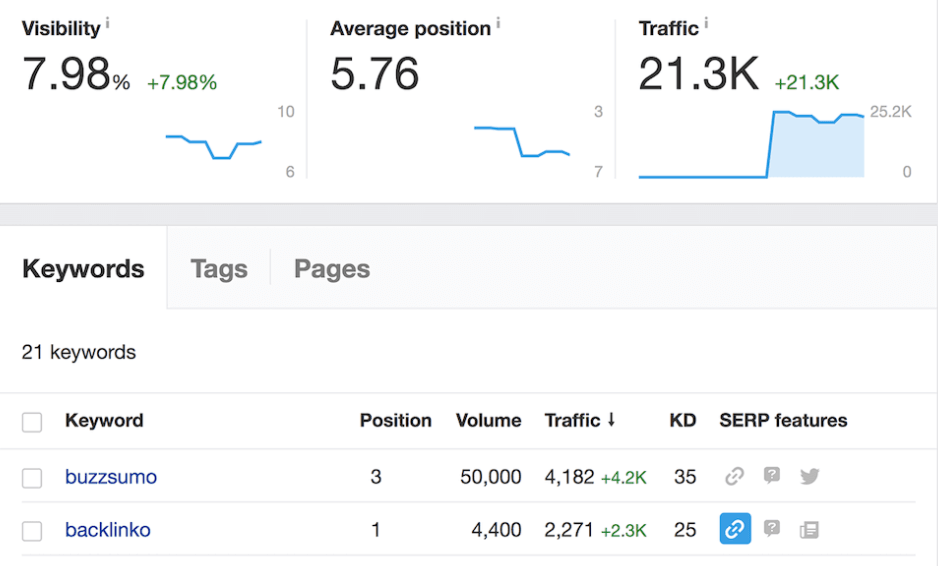 If you enable Rank Tracker Notifications using the Settings to get notified through emails, you also can do it using Ahrefs. There is nothing more significant here.
Verdict:
When it comes to measuring the performance in terms of rank tracking, it's kind of tricky to choose the best from these two giants. Both tools are providing the most needed features. Rank tracking tools in SEMrush are organized under the Project tab. You can see the links for the On-Page SEO checker, a Position Tracking tool.
Honestly, SEMrush data is almost the same as Ahrefs in rank tracking. It shows almost the same position as the Ahrefs rank tracking tool across tracked Keywords. So, here, the result is a tie.
6. Competitor Analysis: SEMrush vs Ahrefs
Competitor analysis is one of the most important factors of SEO. With the use of a quality tool, it could be handy to make a sound competitor analysis. Most of the time, we forget about competitor analysis before starting the game. We start playing without knowing the strength and weaknesses of our competitors.
However, finding the right tool could be a tricky job. The good thing is, SEMrush and Ahrefs have competitor analysis capability. Let's find out which one works the best in this respect.
Competitor Analysis | SEMrush
SEMrush is packed with numerous features and functionalities. It works smoothly for competitor research as a blank canvas, which allows you to test your competitors and spy on them the most efficiently. There is an exclusive tool called Competitive Research that helps to analyze any competitor's domain on the web.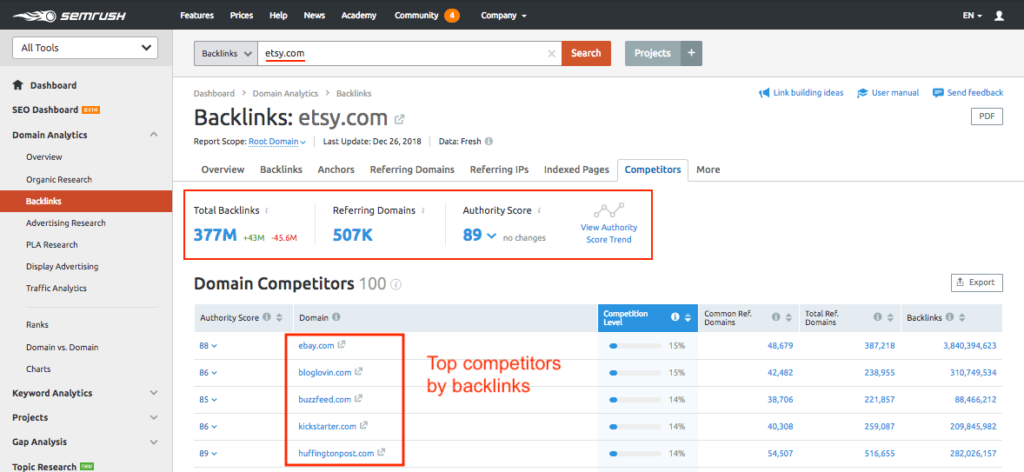 If you put a competitor on the search box, this will show you the total domain, referral domains, and authority score of that particular competitor. You'll see relevant competitors to that competitor underneath the statistics. Moreover, SEMrush provides the following information about your competitors:
Organic traffic
Competitors-topic research
Paid search traffic
Top organic keywords
Top paid keywords
Display ads
One of the most important aspects of SEMrush is it shows engagement metrics that are related to the average duration, the average per page visit, the bounce rate of a particular website. The tool also works with Google Analytics, so that you can spy on your competitors' metrics handily.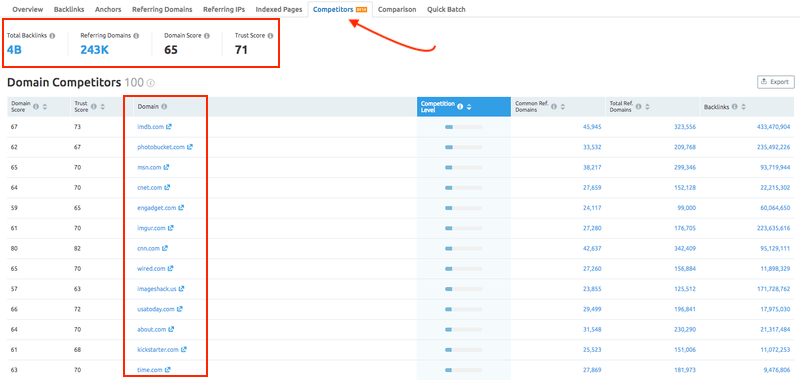 Keyword By Country: SEMrush enables you to find easily your competitors' top-performing organic and paid keywords by country. Here, you can observe the traffic trend and analyze which keywords are generating more traffic so that you can get the right keywords to increase your rank on search engines like Google.
Furthermore, there is a research topic area where you can study your competitor's topics, what they are putting in their articles. This will give an idea to about the best keywords for you to beat them upfront.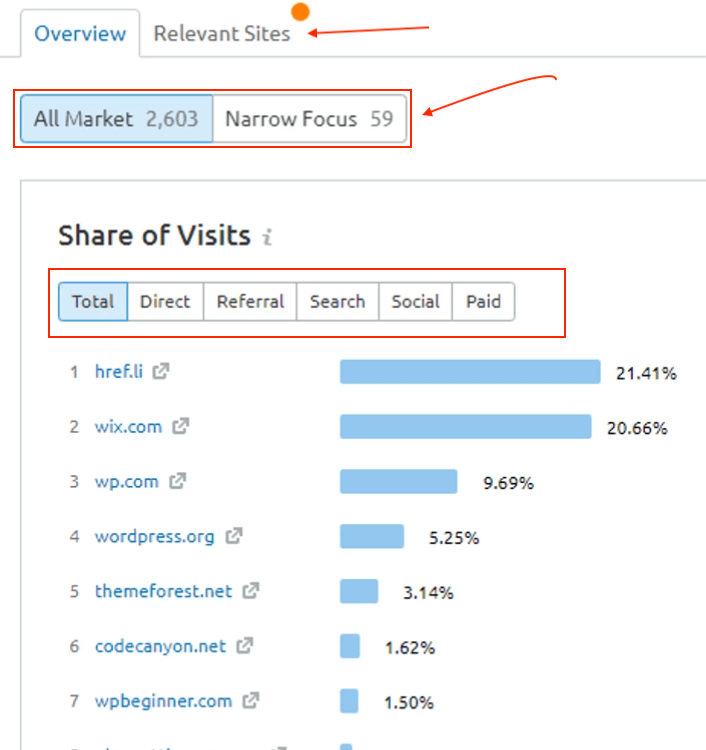 Market Explorer: Market Explorer is another incredible feature of SEMrush. If you want to know a similar type of competitor, you just need to put the URL of a specific type, then it will display a list of websites or articles similar to what you typed. It gives you options to track these markets and companies with the help of super-analytics.
Competitor Analysis | Ahrefs
Using Site Explorer, Ahrefs allows you to perform competitor research. This is as simple as that!
You just need to put the URL in the search box and hit the search icon, you'll get all the relevant data set of the respective URL. Let's put Backlinko again at the search box…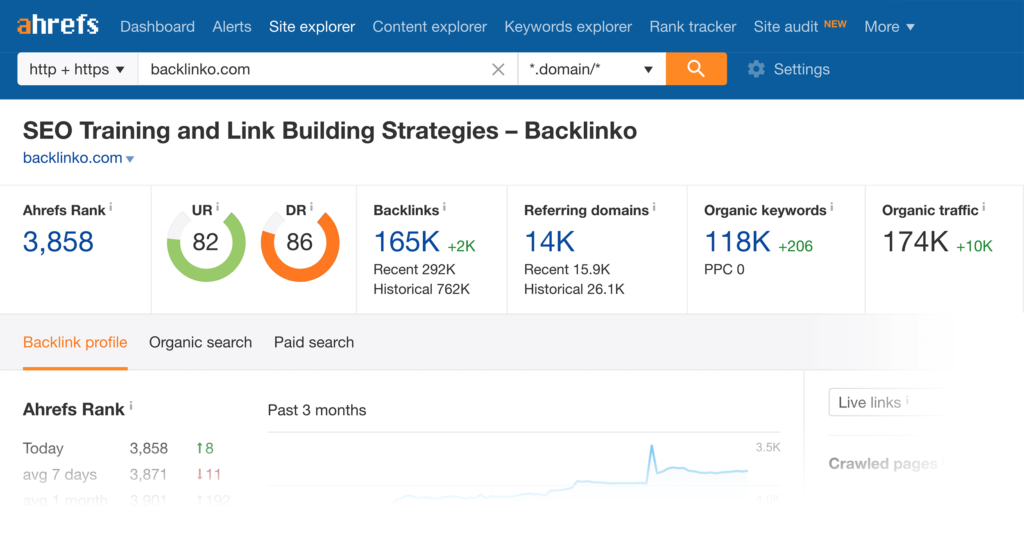 Here if you consider Backlinko as your competitor, under the Backlink profile section, you can see all the backlinks, referring domains, organic keywords, organic traffic, and so on. Moreover, you can see the organic and paid search results along the way.

There is an exclusive option named Competing Domains located in the sidebar that allows you to get a list of the most direct competitors. A beautiful visual keyword integration graph will be shown with that competitor list.

The above demonstration indicates that Ahrefs is a quality tool for competitor analysis but when it comes to being the best then we need to compare. Let's see what we have dissected in this part.
Verdict:
In the competitor analysis part, SEMrush offers a huge amount of resources that are dedicated exclusively to finding the competitors' strong and weak points. That's why it would be much easier for you to prepare a plan by figuring out their right and wrong.
On the other hand, Ahrefs does provide a good solution but a bit less than that of what the SEMrush does. So, in this section, again, SEMrush wins the race for its plethora of resources.
7. Customer Support: SEMrush vs Ahrefs
When it comes to customer acquisition and retention, support plays a big role in making it happen. Pre-sale support ensures customer acquisition whereas after-sale support is for customer retention.
For any kind of product, dedicated support should be the top priority. If you have a quality product, but you're unable to serve the daily issues of your customers; this will not work in the end.
The more you provide a stable support facility, the more you have good reviews and ratings. Positive reviews and ratings build trust and create brand value for your business. That's why I decided to put both the tools to the test based on customer support.
To make sure of this section, I sent the same sample question to each support team distinctly. Let's see what I found eventually:
Customer Support: SEMrush
First of all, to submit my query, I wanted an instant messaging chat, but I couldn't find it at SEMrush. Unfortunately, there isn't any Eventually, it took a bit of time to find an option at the footer of the site.
However, I found it and after filling in some tiny requirements, I submitted my query through the Contact Us link. They took a while to respond to my email. It also seemed a bit complex, first, an auto-generated message came to confirm the next human cooperation.
The entire system wasn't appeared as straightforward to me though I got a solution eventually. I also went through the casual email communication with them, this was pretty decent indeed!
Customer Support: Ahref
Ahrefs support system is as simple as its interface. It's pretty simple and straightforward. I got an instant messaging system but not live chat which was very handy to deal with. The system says that it took about a couple of seconds to submit my query.
They replied back within 5 to 10 minutes later. It seemed better than that what the SEMrush did. They just collected my email, and that's it. I was done within a minute instantly staying within the chatbox. I didn't check my email to have their response.
Verdict:
The entire process of reaching out to the support agent was much easier with Ahrefs. On the other hand, SEMrush offers a bit more complex system and took more time to respond. SEMrush responded to me in a faster way. That's why I want to give the edge here to Ahrefs.
8. Trial Period: SEMrush vs Ahrefs
Providing a free trial of a product could treat as a win-win relationship for both your company and your potential customers. You're providing a chance to use your product and gain the trust of your users.
On the other hand, users get to try before they purchase without taking a risk. Let's see how both the products treat this attribute.
Trial Period: SEMrush
As per the free trial, SEMrush offers a 7-day free trial for its users. They provide a chance to give a test drive before purchasing beforehand. It's really cool though!
? Exclusive Offer: Get 14 days free trial to SEMrush
Trial Period: Ahref
Ahrefs, on the other hand, doesn't provide any free trial period. But they offer a 7-day paid trial for $7.
Verdict:
As we can see that SEMrush provides a free trial period whereas Ahrefs offers a paid trial period. Here, honestly, SEMrush wins the race in terms of having a trial period.
9. Pricing Plans: SEMrush vs Ahrefs
Sometimes pricing plans matter the most. There are a lot more newbies who are unable to use any quality tool because of over-pricing. Cost-effectiveness matters a lot when you think about the collective success of a particular product. Take a look at the pricing comparison of the two tools.
Pricing Plans: SEMrush
SEMrush offers 3 types of pricing plans that are segmented monthly and annually. Here are the 3 monthly pricing plans: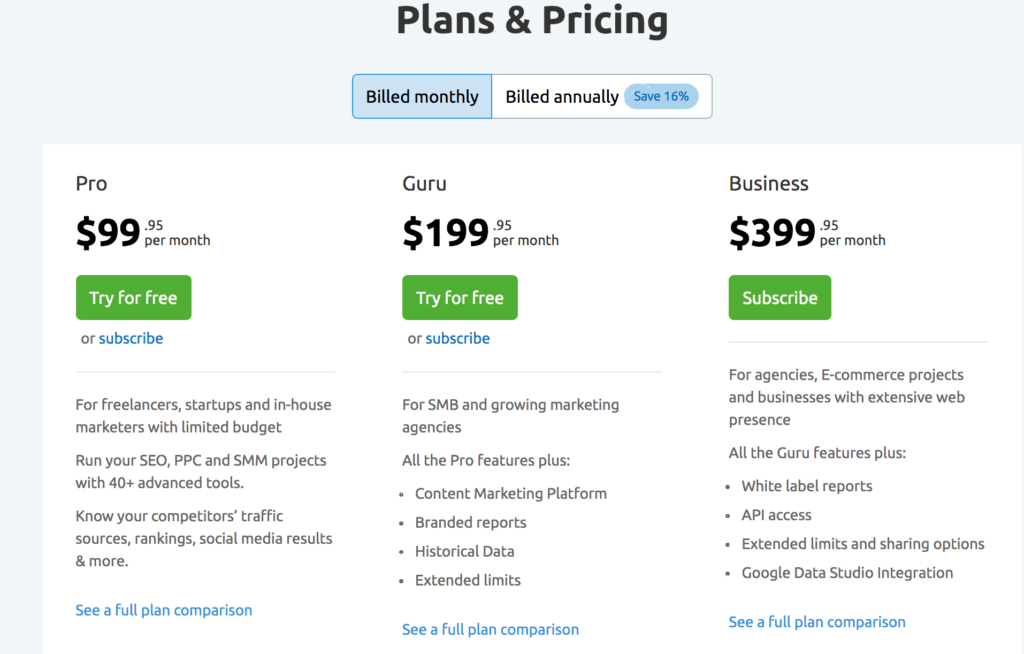 Pro (starts at $99.95 per month)[starters]
Guru (starts at $199.95 per month )[small businesses]
Business (starts at $399.95 per month)[agencies]
If you pay annually, you can save 16% collectively. Moreover, SEMrush offers a 7-day money-back guarantee for its users. You will get the flexibility to upgrade/deactivate your account as you wish. That's a pretty decent discount for annual plans.
Pricing Plans: Ahrefs
Ahrefs offers 4 different pricing plans based on monthly and annually for its users. By accepting an annual plan, you can save 20% on the total billing. Here is the pricing as follows: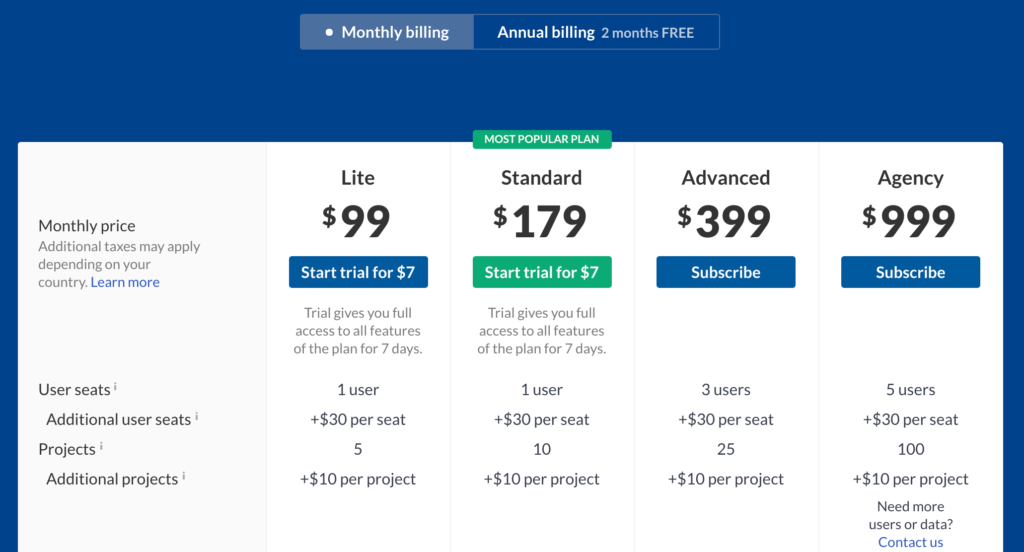 Lite ($99 per month)[beginners]
Standard ($179 per month) [bloggers]
Advanced ($399 per month)[SEO]
Agency ($999 per month)[agencies]
Ahref provides 48 hours money-back guarantee in their refund policy. It's noted earlier that Ahrefs doesn't offer any free trial, but you can get 7 days trial by paying only $7.
Verdict:
When it comes to the pricing plans of SEMrush and Ahrefs, there aren't much of differences between these two giants. All the plans of both are quite similar except the agency of Ahrefs.
The most expensive cost you get in Ahrefs is $999 whereas SEMrush costs you only $395.95 per month. So, in this section, it's a gentle tie.
Final Verdict: SEMrush vs Ahrefs
When it comes to choosing the best SEO tool out of the rest, you should consider which offers you the most actionable features and functionalities. Except for these two tools, you don't need to try out tons of tools altogether as it could be messy for you. I agree to use both because they follow the industry standard roundly and both of them have their unique features from their stand-point.
After a long discussion, it can be said that both tools are excellent in their own scope and they are highly functional for search engine optimization.
Well, I tried to discuss all the necessary aspects that need to cover in order to make you able to take a potential decision. Now, it's time to sort out what probably is going on in your mind.
Which tool is going to rock and provide you the most bang out of your buck?
For obvious reasons, things depend on your criterion means what really matters to you most. Again, I should remind you that both the tools are great when it comes to overall SEO, but we're asking for the best one. That's why this article has come out as a result of that thinking. At this stage, I'll level up with you by rounding up the whole article so that you can take an appropriate decision. In terms of…
This is the in-depth analysis that I went through preparing this content. I shared my so far experience with both tools to give you solid ideas. Now, the ball is on your court!
the user interface, Ahrefs is the best so far.
PPC and overall SEO, SEMrush would be the best.
keyword research, SEMrush wins the race.
backlink analysis, rank tracking, and link building, here both SEMrush and Ahrefs work fine.
technical SEO, SEMrush owns the crown.
competitor analysis, again SEMrush is the winner here.
Customer support facility Afrefs wins the battle.
the trial period, SEMrush does the best job.
pricing plans, SEMrush appeared as the most cost-effective one.
Here's the quick comparison table again for showing things handily:
SEMrush vs Ahrefs
| | | |
| --- | --- | --- |
| Features | SEMrush | Ahrefs |
| UI | ⭐⭐⭐⭐ | ⭐⭐⭐⭐⭐ |
| Keyword Research | ⭐⭐⭐⭐⭐ | ⭐⭐⭐⭐ |
| Backlink Analysis | ⭐⭐⭐⭐⭐ | ⭐⭐⭐⭐⭐ |
| Technical SEO | ⭐⭐⭐⭐⭐ | ⭐⭐⭐⭐ |
| Rank Tracking | ⭐⭐⭐⭐⭐ | ⭐⭐⭐⭐⭐ |
| Competitor Analysis | ⭐⭐⭐⭐⭐ | ⭐⭐⭐⭐ |
| Customer Support | ⭐⭐⭐⭐ | ⭐⭐⭐⭐⭐ |
| Trial Period | ⭐⭐⭐⭐⭐ | ⭐⭐⭐⭐ |
| Pricing Plans | ⭐⭐⭐⭐⭐ | ⭐⭐⭐⭐⭐ |
SEMrush is good for business owners who need one tool that can accomplish multiple tasks such as social media, SEO, SEM, and content marketing. Because of its versatile and robust features, it is economical and can save money cutting across other tools.
Ahrefs, on the other hand, is good for agencies and SEO professionals who do not need any other features. It can serve your purpose if you just need an absolute SEO tool that does not need to serve the need of other marketers. That is Ahrefs for you!
Having said that, I'll still suggest using both these awesome tools if you have enough budget. But if you have a limited budget and want to invest in one, then I would recommend SEMrush for sure as it offers a plethora of bang for your buck. As an additional edge, SEMrush gets constantly updated, it regularly adds a lot of new features and it has an amazing knowledge base for use.
In conclusion, if you are looking for an all-encompassing SEO tool to get started with today, SEMrush should be your best choice for the obvious reasons already listed.
Bonus: FAQ on SEMrush vs Ahrefs
I think you have got a clear idea about the SEMrush vs Ahrefs review. To reduce your confusion even more, in this bonus part of this article, I'll be going through the Frequently Asked Questions(FAQs) on behalf of both the tools. So, let's get into it:
I hope this in-depth article helped you to fix up your confusion about the SEMrush vs Ahrefs issue. If you liked this comparison article, please do me a favor by sharing this article on your social media channels through the attached links.
Let me know what you think about these two giants. Do share your experience using SEMrush and Ahrefs in the comment section below.
---
If you haven't joined Allrounder Blogging Community yet, do join ASAP and follow us on Twitter and Facebook to get exclusive content on a regular basis.