No.
SKILLED BLOGGERS who:
invest money in a domain and hosting
invest money in courses and eBooks to learn how to blog properly
create
connect
persist
trust
open multiple streams of income
can earn a nice source of extra or full time income. Bloggers earn income. Blogging never did anything for anyone, because blogging is not an action verb or source, but, a tool through which you hone your craft, help people and prosper.
Asking the above question is like asking if stock trading is a good source of extra income. Only for skilled traders who learn and practice their craft; these folks go full time and earn a solid income. Ditto for being a doctor or lawyer or garbage person or mail person; anybody can earn any income in any niche because the person and their diligent, intelligent work earns the income, while the niche does nothing because niches are inanimate concepts, incapable of doing anything.
I clearly want you guys to know; of course full time and extra or part time incomes can be gained through blogging but you need to learn how to blog from pros, help people and befriend top bloggers, for thousands of hours, to position yourself to earn extra income. Plus, open multiple income streams to prosper. Plus, blogging is not get rich quick, nor a job, because you earn money through your blogging skills, and exposure, and it takes time and generous effort to develop your skills and gain exposure. I believe in you. Know you can succeed if you generously help folks and trust in the process.
But never see blogging as some part time job hustle for earning extra income. This gig requires serious effort to even earn part time cash BUT if you keep generously helping people, you can leave your full time job and blog full time as a pro blogger. People do this routinely if said folks learn blogging from pros, generously help people, monetize through multiple streams and trust deeply in themselves and in the blogging process.
Blogging is a business so earning a side income still requires a hefty time and energy commitment. But peep the upside; you can grow this into a fun, freeing, full time business that leads to passive income around the clock if you really happy hustle now. See how I publish 10 or more posts daily on my blog and through guest posts, collectively? I love what I do and also see the power of being generous and how this helped my blog traffic and blogging income. Observe my happy, calm, slow, controlled hustle to see what it takes to really get things popping with your blog growth.
I also suggest you invest in an excellent resource to grow your online business, like my eBook:
11 Online Business Tips for Retiring to a Life of Island Hopping
Learn from bloggers who live their dreams through blogging to follow in their foot steps. Do not mess around with bloggers who foolishly advise you take short cuts, or any of that garbage. Listen to folks who teach the basics of following your passion, creating content, building connections, monetizing freely and trusting in yourself and in the blogging process. These pro bloggers steer you toward increased blogging success so pay attention, take notes and follow their lead to earn an extra or full time income through blogging.
Blogging is inanimate. Blogging cannot do anything. Bloggers use blogging to help people and to earn money but your generosity, patience and dogged persistence are the difference makers in terms of earning part time or full time income through this gig.
Everything is on you; not on blogging.
---
If you haven't joined Allrounder Blogging Community yet, do join ASAP and follow us on Twitter and Facebook to get exclusive content on a regular basis.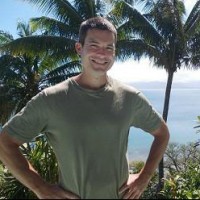 Ryan Biddulph
A Blogging Geek from Paradise.
Ryan Biddulph inspires bloggers with his 100 plus eBooks, courses, audiobooks and blog at Blogging From Paradise.