First off, you do not "make" a blog post appear on Google. No one forces, manipulates or barges through the process of SEO-optimizing blog posts for placement on Google.
But after learning SEO principles, sticking to your niche and mastering onsite and offsite search elements, you can rank for certain keywords, even on page 1.
Let's dive in.
I do not care about the eye-popping masterpiece you publish; Google gives first page preference to authority sites. Authority sites become authority sites based on a proven track record. Publish helpful content on your blog over years. Build up your blog authority. Position yourself to rank on search engines.
Way too many newbie bloggers believe ranking on page 1 is easy if you publish 1 or 2 masterpieces. Nope. Google makes you FIRST build an authority blog after proving your mettle over months and years. After gaining authority, you position yourself to rank well on Google and other search engines.
1: Publish Helpful Content
Publish helpful content. Listen to reader needs. Solve their problems. Publish 1000 word or longer content since Google seems to favor longer-form blog posts.
Go in-depth. Add extensive details. Content makes the search engine go because Google loves good, relevant, targeted content.
2: Stay on 1 Topic
Cover 1 topic on your blog. Stay on topic to build authority in one niche. Google loves specialists. Google does not love generalists much. Observe the offline world. People hire lawyers to handle legal problems. People visit doctors if folks feel sick. We seek specialists offline. Google demands specialists online. Do 1 thing. Do it well. Rank well, too.
3: Use an SEO Plug In
SEO Plug ins give you all the details necessary to put you over the top. But all of the nuts and bolts stuff is mainly about creating helpful content people crave. I just want to put plug ins into perspective because some bloggers obsess over these tools and do a poor job creating content, wondering why they never rank.
4: Pick Appropriate Keywords
Picking low competition keywords makes most sense for bloggers. No sense going up against the big boys by trying to rank for competitive keywords. Drill down in your niche. Select keywords not too popular, but, popular enough to warrant sweet passive search traffic monthly.
Ubersuggest is a helpful tool for learning more about keywords.
5: Gain Quality Backlinks by Guest Posting the Right Way
Build friendships by helping bloggers. Comment genuinely on their blogs. Promote bloggers on social media. Promote bloggers on your blog. Ask for nothing in return. Expect nothing in return. Something neat happens; more than a few of these bloggers invite you to guest post on their blogs. Guest posting on respected blogs from your niche boosts your quality backlinks. Blogs with quality, relevant backlinks pointing to said blogs tend to rank well on search engines.
Example; I built a bond with Nazim at Make Blogging. He invited me to guest post on his rocking blog. Not only did I build up a high volume of quality backlinks through my guest posts over there, he actually set up a menu link pointing readers directly to my blog earlier today. Talk about serious backlink juice.
The Tip of Tips
Ranking on any search engine is not easy because years of practice, observation and skill development goes into ranking on page 1 of Google, or, ranking on any search engine. Driving search traffic is a serious skill. Bloggers need to practice, observe and learn what types of posts Google prefers. But Google is fickle. Some posts may please Google today but may not impress the search giant, 6 months from now.
Stick to the basics, practice for a long time and in time, with patience, you will slowly and steadily drive search engine traffic to your blog.
eBook
Do you need help with blogger networking?
Buy my eBook:
13 Steps to Become an Unstoppable Networking Machine
---
If you haven't joined Allrounder Blogging Community yet, do join ASAP and follow us on Twitter and Facebook to get exclusive content on a regular basis.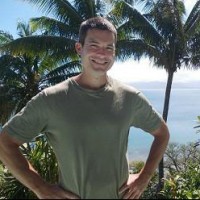 Ryan Biddulph
A Blogging Geek from Paradise.
Ryan Biddulph inspires bloggers with his 100 plus eBooks, courses, audiobooks and blog at Blogging From Paradise.