Beware the temptation plaguing most bloggers.
The majority want a big email list. Bloggers want 45 subscribers daily. People obsess over numbers. But numbers cannot put money in your pocket. Numbers cannot buy stuff, hire bloggers or endorse bloggers. Human beings – on targeted email lists – buy, hire and endorse. Aim for a targeted email list over a big email list. Loyal blogging fans highly interested in your blog matter most.
Targeted email lists produce traffic and profits. Most if not all people on the list deeply desire your content, products and services. Click rates yield high numbers. Business grows because humans highly interested in your offering guarantee business growth through their purchases, endorsements and promotions.
Most bloggers deeply understand this truth on a slight level, at least. But in the next breath, many of these bloggers turn around to excitedly chase big email list numbers.
Bloggers bandy about imaginary milestones. 2000 subscribers. 10,000 subscribers. 50 subscribers daily. Each number proves to be completely worthless. Numbers cannot do anything. Anything not capable of doing anything proves to be worthless.
Human beings are quite a different story. Human beings deeply interested in your blog, brand and overall blogging message can build you a highly targeted, responsive email list. Highly targeted email lists convert, produce and pretty much do whatever you intend for them to do.
Both parties win. Your list benefits from your valued free and premium content. You benefit financially, from endorsements, from promotions and from testimonials. All these blogging goodies flow to you from loyal, targeted fans who love what you do.
Stop chasing big numbers. Resist the urge to grow a huge email list, trying desperately to accumulate as many subscribers as humanly possible. Genuinely; big email lists do not matter because numbers do not matter. Rushing in a mad dash after as many subs as possible guarantees the humans signing up have little to no interest in your offer. Disinterested people do not buy your stuff, never hire you, resist promoting you and unsubscribe from your list quite quickly.
Some bloggers brag about nabbing 25 subs in a day but a large percentage of those 25 people unsubscribe after 1, 2 or 3 days on the email list. A few bloggers grow relatively large, targeted email lists BUT only after growing super small, targeted email lists, first.
Start with targeting. Go small or go home. Aim to align with a few hyper targeted, loyal fans who love you, your blog and your products and services. Give virtually all of your attention and energy to these folks. Something neat happens; since where your attention and energy goes, grows, your fan base and email list grows, along with increasing blog traffic and profits. Loyal fans buy your stuff, hire you, promote you and endorse you. Remember that.
Target mercilessly. I email only active subscribers. I care less about people signing up for my list. Unless you open my emails, you do not receive my emails. I give virtually 100% of my attention and energy to people who love what I do and I give virtually 0% of my attention and energy to everyone else. Targeting my list ensures I get bang for my time and energy investment buck. I need to be efficient. I have no other choice.
Focus on a targeted list before anything else. Prosper through the power of clarity.
eBook
Do you want to circle the globe as a pro blogger who island hops from tropics to tropics? I wrote an eBook helping you build a successful online business while traveling the world. Enjoy this read to free yourself as you grow your blogging business in the tropics.
Buy it here:
11 Online Business Tips for Retiring to a Life of Island Hopping
---
If you haven't joined Allrounder Blogging Community yet, do join ASAP and follow us on Twitter and Facebook to get exclusive content on a regular basis.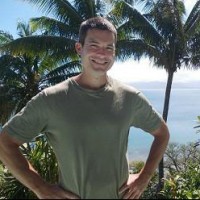 Ryan Biddulph
A Blogging Geek from Paradise.
Ryan Biddulph inspires bloggers with his 100 plus eBooks, courses, audiobooks and blog at Blogging From Paradise.