I am traveling a bit these days.
Right now, my hotel seems to attract idle folks. Most people seem busy with jobs, businesses and life. But a small percentage of people sit outside, chat, shoot the bull and basically, idle. Nothing doing. Certainly, most if not all of these folks hold no job. None run businesses. Hey; anyone spends their lives however they want to spend their lives. Each person seems nice, polite and chill. But life becomes incredibly tough for idle folks who spend days gossiping, hanging out and doing nothing productive for humanity.
Idlers wait on the sidelines. Achievers move the world forward.
Do you idle with your blogging campaign? How often do you sit on the blogging sidelines? How often do you gossip, complain or whine about your blog? Bloggers complain about driving no traffic or making no money blogging. But the same bloggers idle on the sidelines, whining, acting powerless, watching Netflix and doing absolutely nothing about solving their blogging problems. How can you solve a blogging problem unless you get off the sidelines, get in the blogging game and follow proven strategies for creating and connecting?
Stop Idling
Stop idling. Stop sitting on the blogging sidelines. Nothing happens for bloggers who do not put in the work, time and energy to become successful.
Observe fear. Fear holds you back from getting in to the blogging game. Fear feels overpowering. But like all emotions, observing fear allows the emotion to dissipate. Be with your fears. Sit with your criticisms. Get on purpose. Pick a fun, freeing driver.
I guarantee the folks idling here at the hotel do not dream big dreams. Otherwise, these individuals would be out chasing their dreams versus sitting on chairs, gossiping, passing the time, staying out of trouble. Ditto for bloggers. Everyone seemingly stuck on the sidelines has no dreams pulling them forward. Dreamers get in the game, learn blogging and generously create and connect their way to a fortune.
Dream Big Dreams
Spend time in quiet daily. Allow dreams to picture on the screen of your mind. Paint the mental pictures in vivid detail. Take the time to feel your dream as coming real. The real-feeling emotions burn a fire under your rear end, preventing you from idling. Oh yeah; buy my eBook for dealing with dream stealers to keep dreaming big dreams without having negative people trip you up.
Dreaming big dreams preps you to blog through thick and thin. Life intervenes. Sometimes, you want to do nothing but sit on the blogging sidelines. Your dreams move you into action, goading you forward when you want to take it easy for way too long of a period.
Tips for Getting to Blogging Work
Surround yourself with doers. Pay close attention to bloggers who do. Follow these folks. Befriend these folks. Allow achievers to rub off on you through osmosis. Get to blogging work by being worker influenced.
DO give yourself ample rest time. Bloggers 100% focused on work burn out, struggle and fail. I only get to work regularly because I give myself time to rest, recover and recharge every single day. Take a chill pill. Relax. Rest. Refresh yourself to get back to blogging work.
Invest in a blogging course. Give yourself a motivating boost. Invest in a blogging course to keep blogging while avoiding any urge to languish on the blogging sidelines. Feast on knowledge, experience and wisdom from pro bloggers. Learn from these big dawgs through blogging courses how to avoid getting caught in blogging holding patterns.
Forgive yourself if you became blogging lazy. Release your past to get back in the blogging game.
Stop idling!
---
If you haven't joined Allrounder Blogging Community yet, do join ASAP and follow us on Twitter and Facebook to get exclusive content on a regular basis.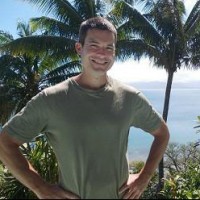 Ryan Biddulph
A Blogging Geek from Paradise.
Ryan Biddulph inspires bloggers with his 100 plus eBooks, courses, audiobooks and blog at Blogging From Paradise.