Are you struggling with creating tables on your website?
If the answer is Yes, then don't worry! you are in the right place to deal with the issue. Ninja Tables WordPress table plugin comes up with tons of amazing features to solve the table creation problem forever and ever. Using Ninja Tables, now you can create numerous types of extendable tables in the best possible way on your WordPress site.
What is Ninja Tables?
Ninja Tables is the most advanced table plugin for WordPress users. The plugin was first coined on 26 December of 2017 by wpmanageninja.com, one of the fast-growing companies of digital products. Basically, the company deals with distinctive digital products like WordPress Themes, Plugins, and add-ons. At the very beginning, the company dealt with the numerous HTML templates and they have various HTML templates as well. Amongst all the products, Ninja Tables is the most reputed and fast-developing product of the company.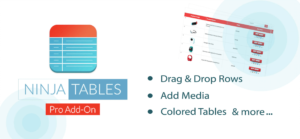 From the very beginning of its release, Ninja Tables has been doing great in the WordPress table plugin industry. Within a short span of time the plugin has got immense popularity over the time for its outstanding performance in creating any kind of table on the WordPress site. The persons behind the plugin are constantly working so hard to make the plugin most user-friendly for its users.
Why Use Ninja Tables as a Table Plugin?
It's obvious that WordPress is the best CMS in the digital world but it also wise to say that it's not free from flaws. WordPress doesn't come up with a default option for creating a table instead of raw coding. Moreover, creating tables through raw coding is not only a boring task but also it's pretty time-consuming.
To solve this problem, Ninja Tables a renowned WordPress table plugin comes into existence and makes things easy for WordPress users. Using Ninja Tables plugin, anyone can create any kind of dynamic advanced table without having a single line code. It's super handy interface makes table creation very smooth that any novice user can easily manipulate the system and create tables easily. That's why you should use Ninja Tables WordPress table plugin for creating any kind of smart tables.
Features & Functionalities
Ninja Tables is the most widely used WordPress table plugin for creating tables. This plugin is used in almost all the sectors like business, science,  education, and non-profit, etc. The plugin got its reputation for its numerous features and functionalities.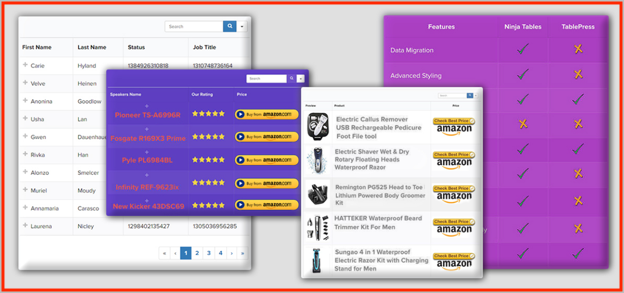 One thing I must point out upfront is that Ninja Tables is a feature-rich table plugin and listing all of them here would be rather unreadable, so instead, I am focusing on the stuff that all users are likely to know for sure. Here let's dive into the deep more about the core features and functionalities:
These are some basic features of Ninja Tables that you need to know for creating your expected table on your web pages. Now I am going to demonstrate one by one in a row.
1. Easy Drag & Drop Facility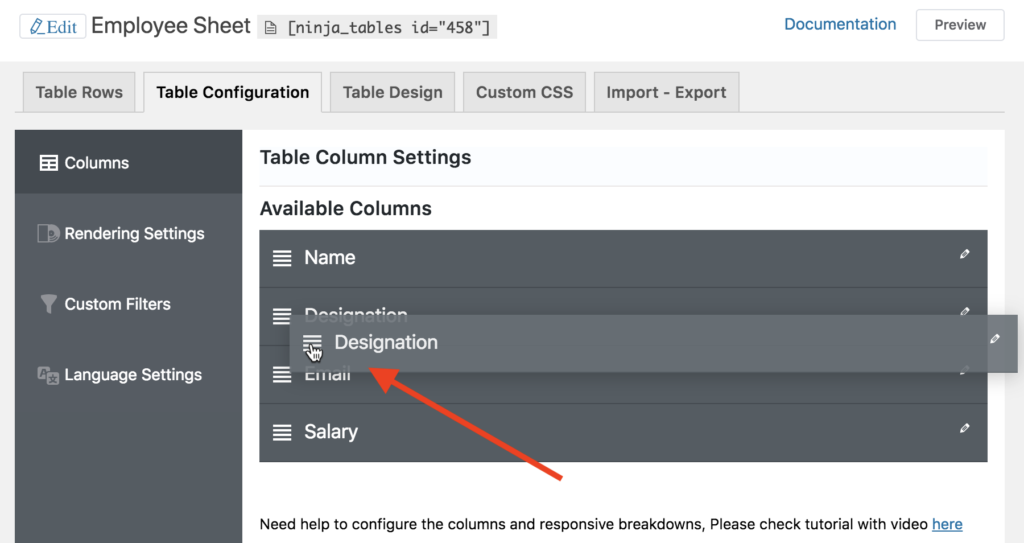 Drag & drop facility always plays a vital role in reducing task and time simultaneously. Ninja Tables come up with this amazing feature for its users. Using this powerful feature, you can re-arrange your table rows and columns easily. Return ⏫
2. Responsiveness with Breakpoints Functionality
One of the most important aspects of Ninja Tables is its responsiveness. Using Ninja Tables you can create tables that are fully responsive in type. The plugin also comes up with another exciting feature that is the responsive breakpoint.
You can show your table data on different devices with a responsive outlook using this option. You can define the breakpoints at the exact device widths that you are looking to target. Return ⏫
💡 You can learn more about the option from Ninja Tables' official website.
3. Adding Media Library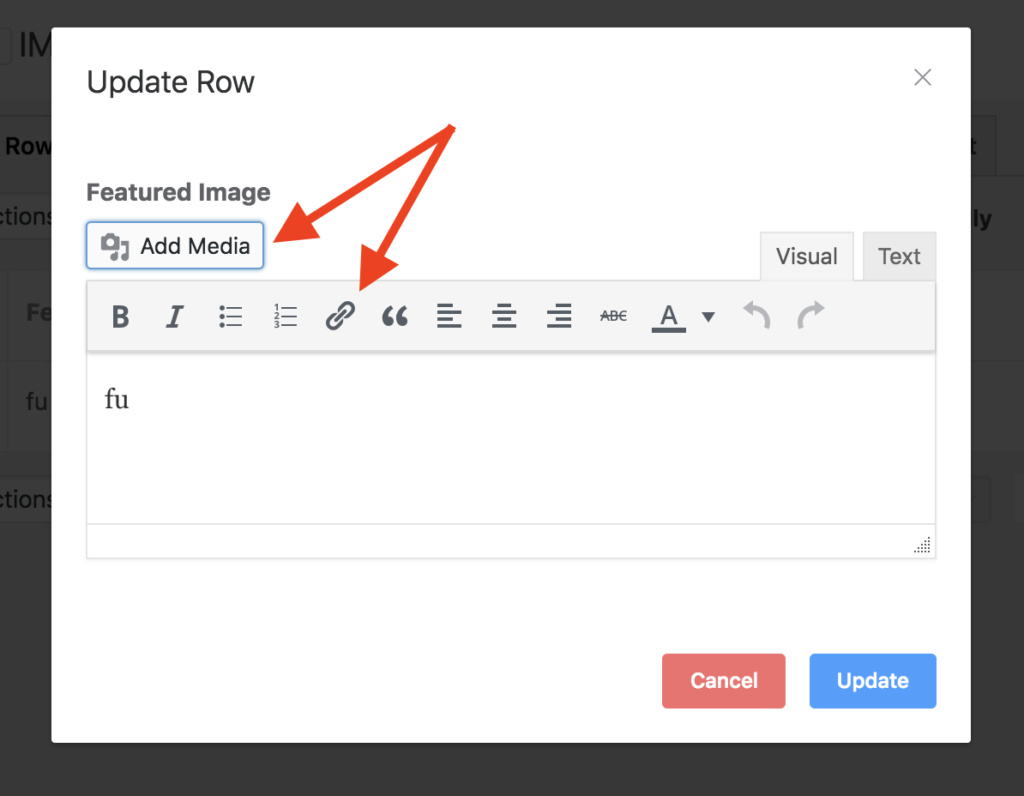 Using Ninja Tables you can add any kind of images, video links, other external files into your tables to make the table most of it. Sometimes it's needed to add different types of images with the links. Return ⏫
4. Enhanced Table Design
Styling always plays a big part in presenting any data. Considering this, Ninja Tables plugin comes up with a bunch of amazing options that will definitely blow your mind. The plugin provides you with a wide range of styling opportunities in very different ways.
There are three different table designing sections for each table design. The sections are Styling, Table Colors, and Others, etc.
In the Styling section, you will get multiple options like Styling Library, Styles, and Features.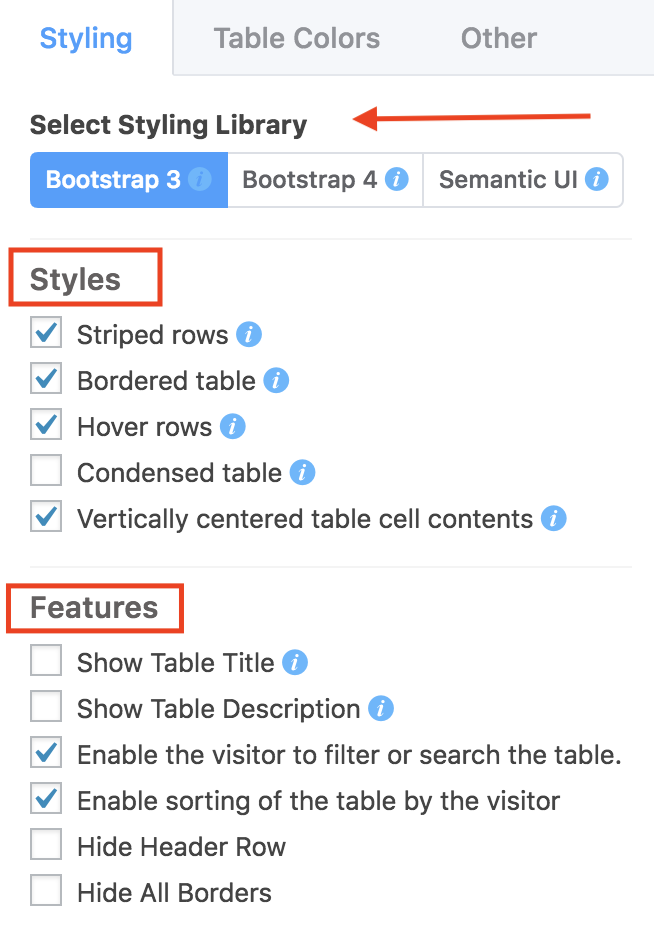 Using those options you can configure your tables in versatile ways. You can use Bootstrap 3, 4 and Semantic UI.
In Table Color section, you color your table in two different ways. The pre-defined option allows you to colour your table with 12 different pre-defined colors.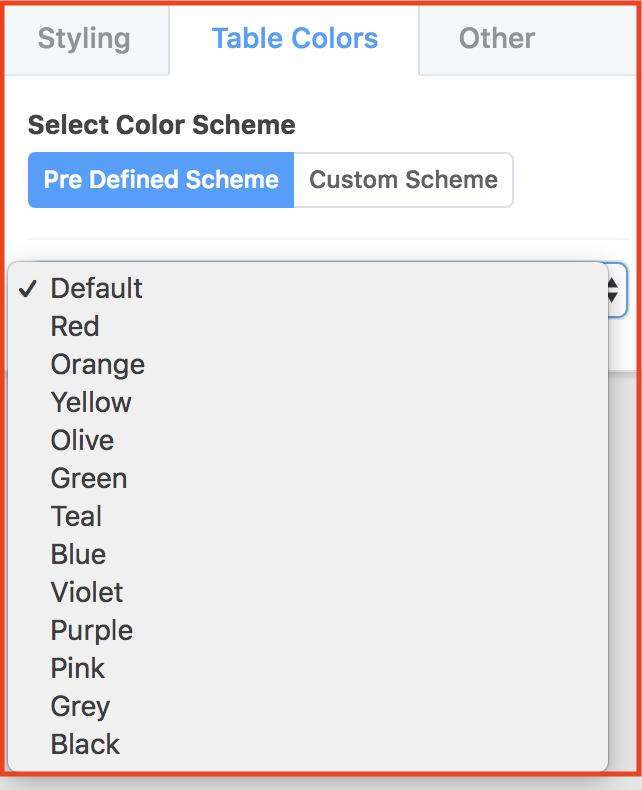 The Custom Schema allows you to add colors to your tables according to your own choice. You can customize any of the color schemas for making your table attractive.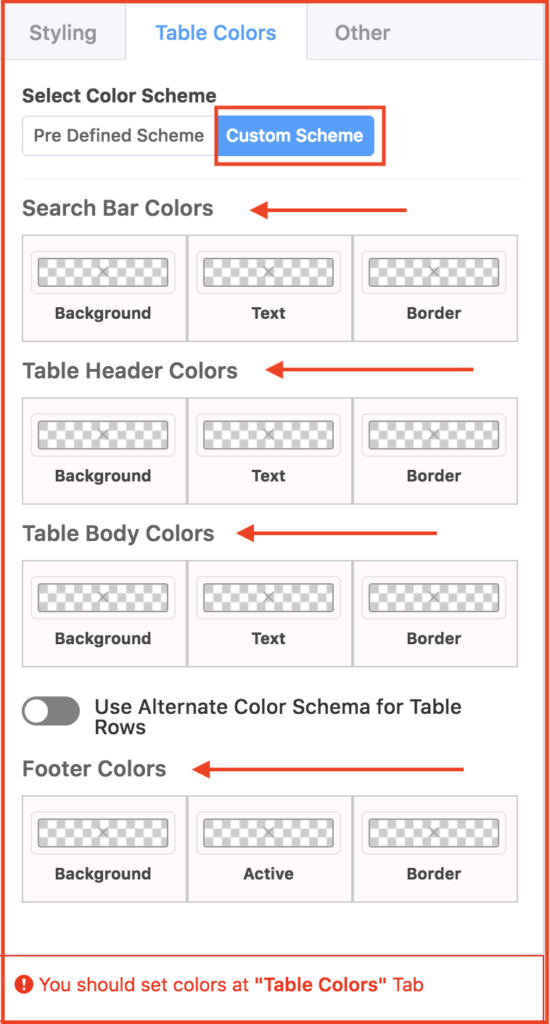 There are a bunch of customizing options in the Custom Schema section. You can configure each of the customizing options to make your table design more smooth.
In the other section, you can enable and disable pagination of your created table.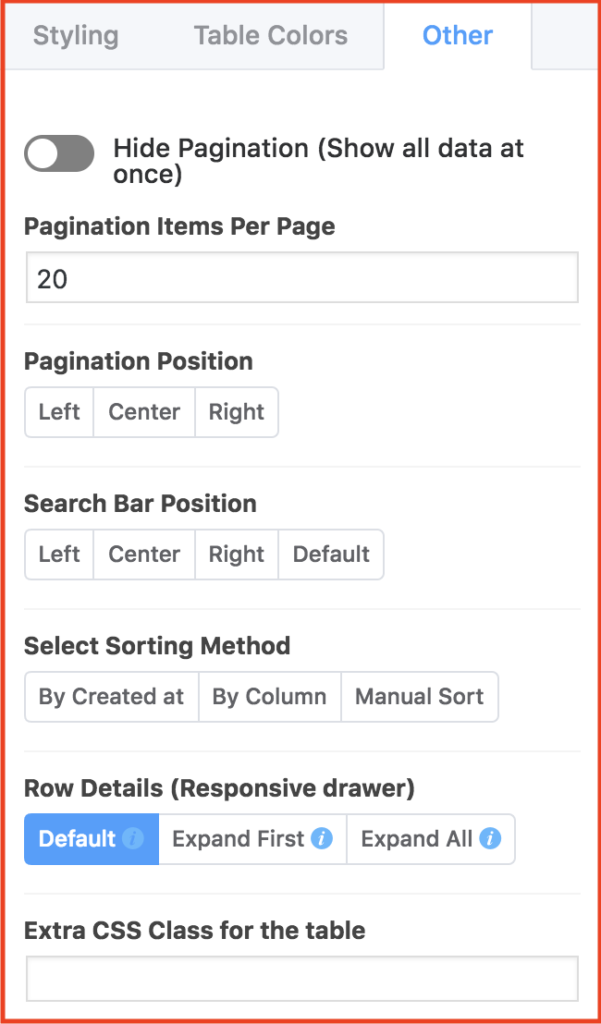 Not only that you also can set the pagination position, search bar position, sorting method, you also can put row details and custom CSS for your table design. Return ⏫
5. Backend Preview with Responsive View
Using Ninja Table you also get a smart preview section with an option that makes you see how the created table looks like in three different devices.
You can diagnose your created table staying from the backend without clicking on the preview button. You can view the table from the mobile, tab, and desktop view.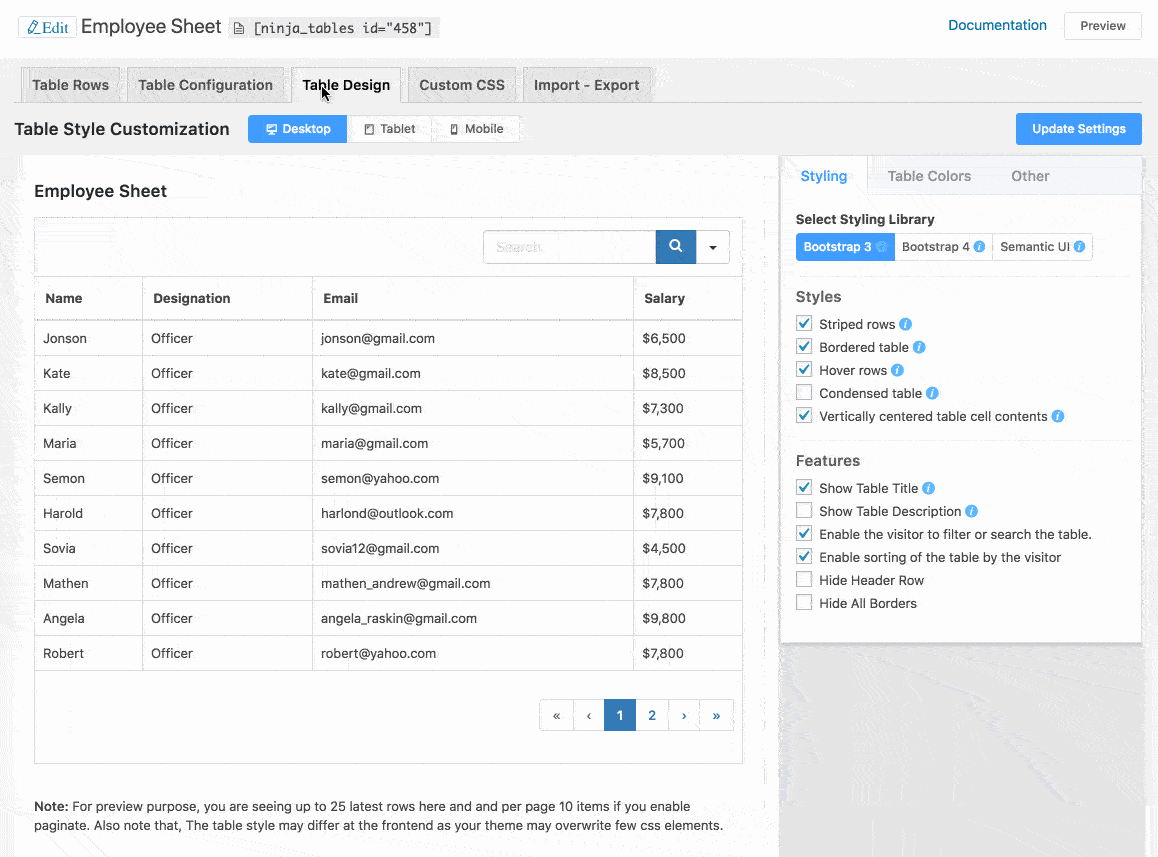 This is a nice way to manage your table configuration using the plugin. Return ⏫
6. WP Post/Custom Post Types
The WP post allows you to show your website post in a tabular format on your page using Ninja Tables. WP post option is a unique option for any kind of table plugin.
You can hardly find any table plugin that covers such an amazing feature.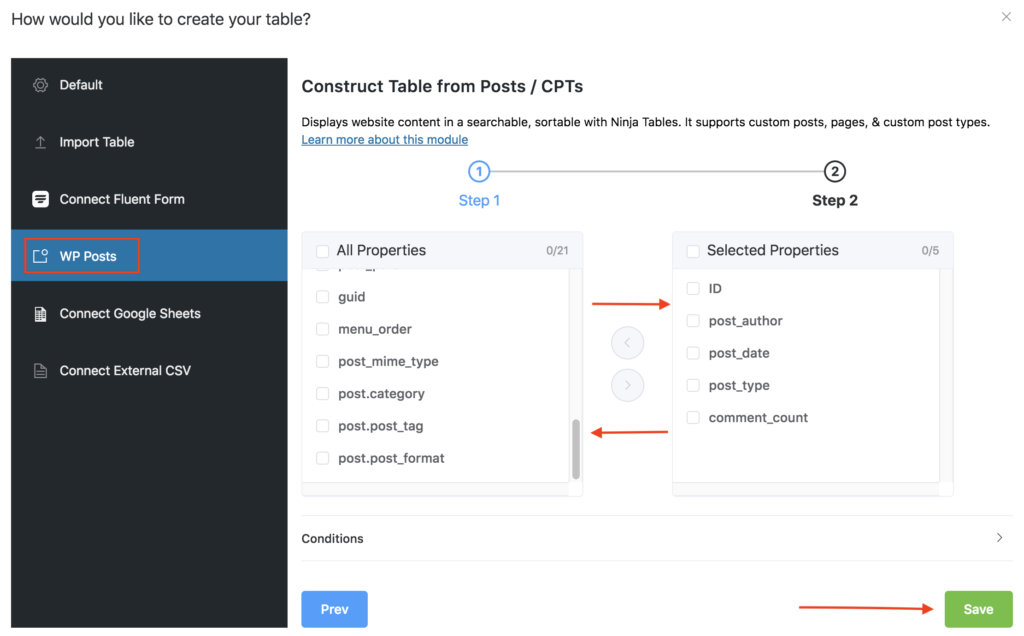 There are multiple configuration options for custom post type WP Post feature. You can choose the item that you want to display on the table row.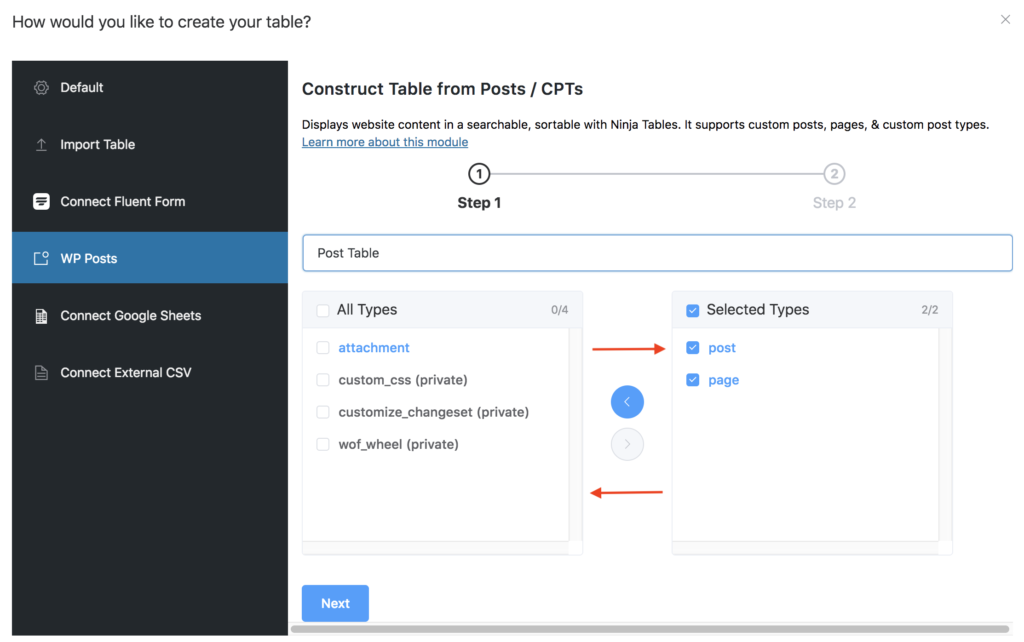 You can edit the existing table that is generated by WP Post feature and you also can add the more additional dynamic column in your existing table.

This is not the end of this feature! If you want to give any condition to any column you can have such opportunity using Ninja Tables plugin.

WP Post is the latest feature that the plugin released in version 3.0 and this is the most exciting feature to manage the table on your site in a very unique way. Return ⏫
7. Integrations
Ninja Table version 3.o comes up with some amazing features that will definitely fill your mind. Among all the new features, there are two most important integrations within Ninja Tables. One is integration with Google Sheets and another is WP Fluent Form integration, a WordPress form plugin.
Both the integration makes the plugin more intuitive and extended usability. In terms of WP Fluent Form integration, you can show all the data retrieved by using WP Fluent Form in Ninja Tables plugin.
In terms of Google Sheets integration, you can display all the data of Google Sheets using Ninja Tables plugin.
This is one of the most exciting features of Ninja Tables. This is the latest integration that Ninja Tables has done lately. Hence, you can get lots of such opportunities using Ninja Tables plugin on your site. Return ⏫
8. Conditional Column Formatting
Conditional Column Formatting is one of the latest features of Ninja Tables version 3.0. Applying the feature, users can easily format the table column/cell using different condition. You can format any of the columns of your tables using conditions according to your requirements.
With Ninja Tables' Conditional Column Formatting feature, you can customize your table appearance based on the cell value of the table. You can make a change any cell value of the table using these features.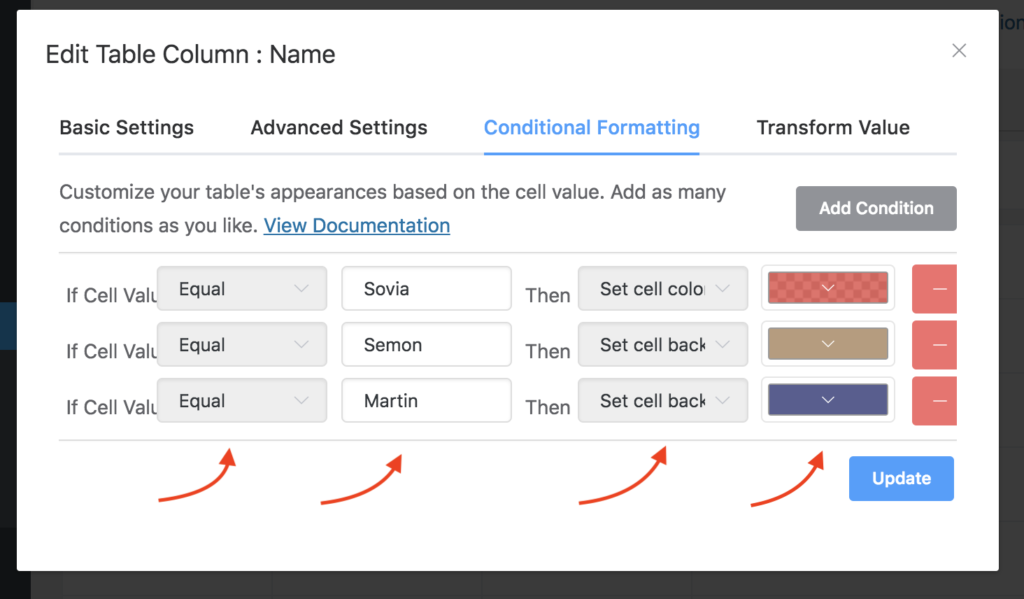 You can give a different text color, the background color of specific cell value.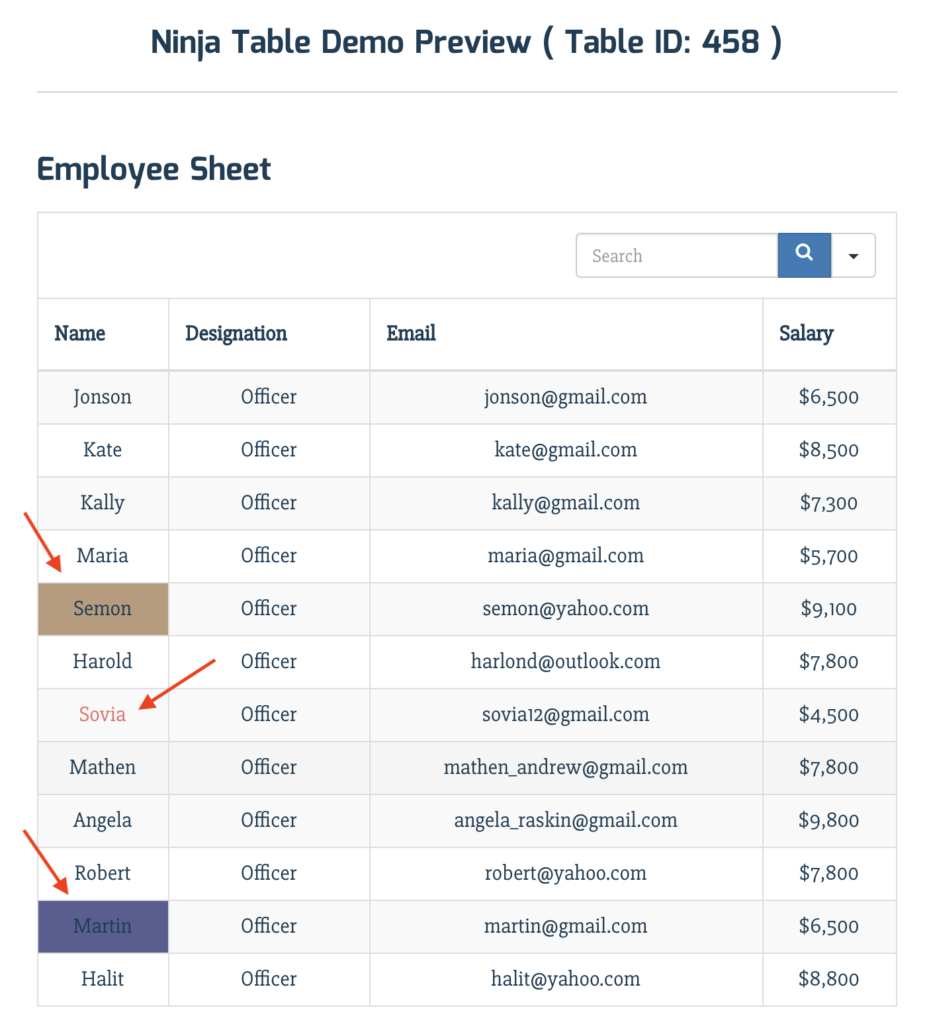 This feature is the most exclusive feature of Ninja Tables plugin as you can hardly find this feature within a table plugin. Return ⏫
9. Export-Import Facility
Ninja Tables comes up with export and import facility for its users. You can import tables data from any other external file and you also can do the same from another plugin as well. Ninja Tables plugin allows you to import data from TablePress as well.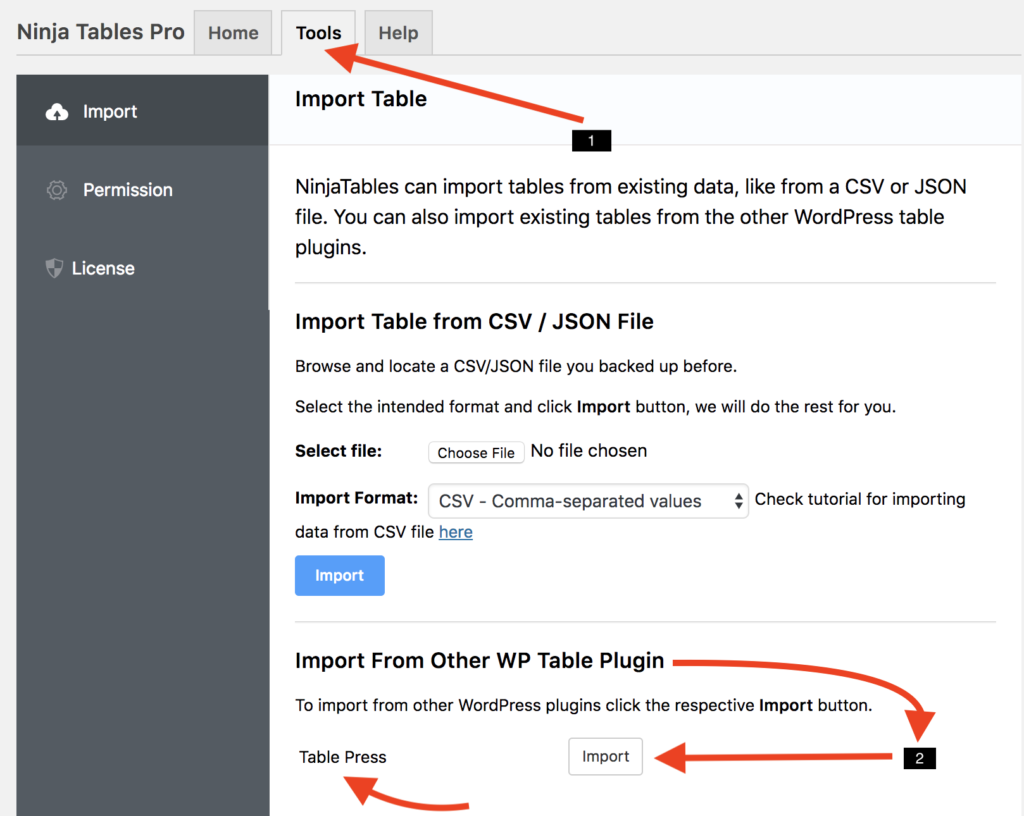 Apart from this, you can import data from other external sources. You can import file in CSV or JSON format.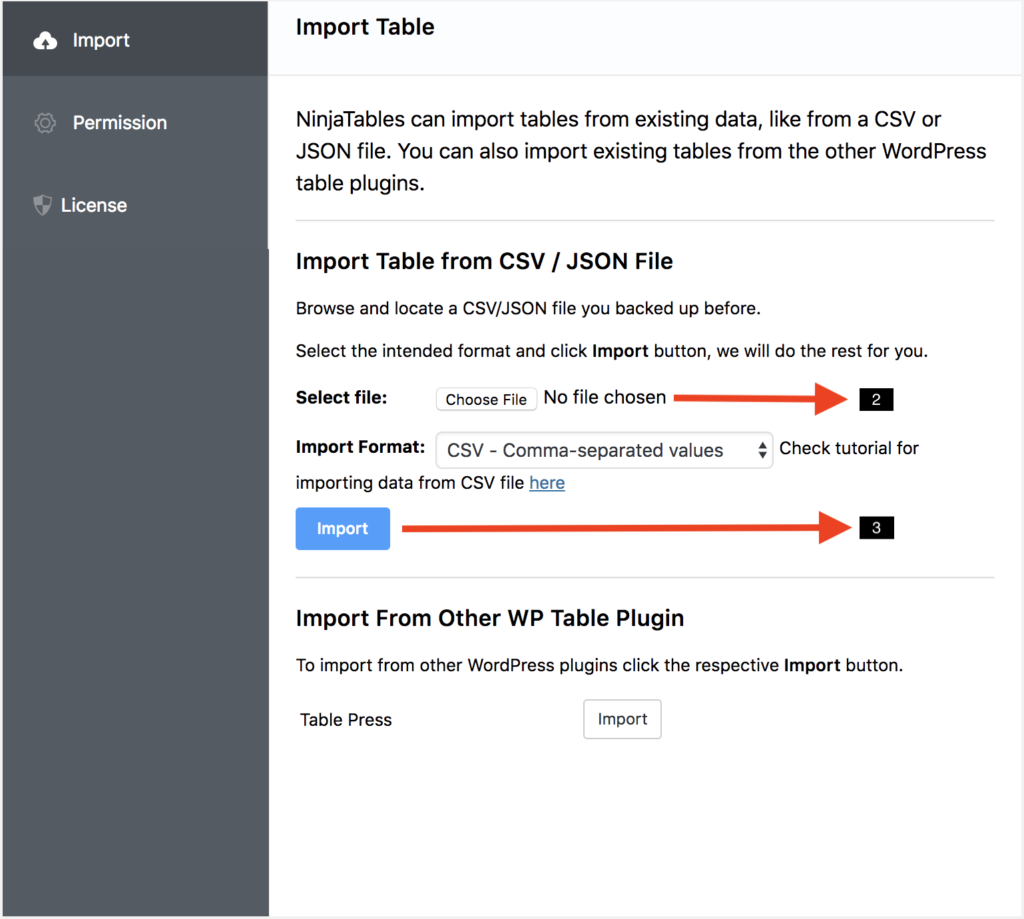 Moreover, you can export file to other direction in CSV and JSON format.

This is how you can get this export and import facility within Ninja Tables plugin in a handy way. Return ⏫
10. Loading Fast Tables
The fast-loading web page is the basic demand of every user. Using Ninja Tables you can create any kind of tables that are fast loading in type. Ninja Tables operates everything from just a single page. The backend is built on VueJS and VueRouter as SPA so the experience will be smooth. From creating a table to configuring settings or adding entries, importing from a CSV, re-arranging columns everything feels real-time.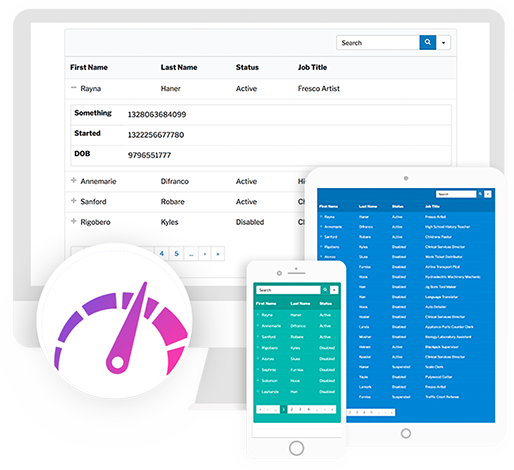 The frontend table rendering of the plugin is even faster with minimal JS and CSS loading. The frontend data is loaded using Ajax so that it can handle thousands of table rows without affecting your page loading time. Return ⏫
11. User Permission
Using Ninja Tables you can have an opportunity to provide permission to access to its users. If you don't want to always limit the fluent experience of using Ninja Tables to the Admin users. In this case, again, sometimes you may need to restrict permission of who can edit your tables, and who can not.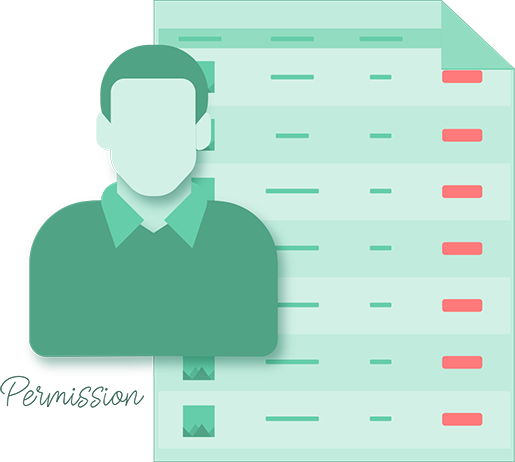 Now, don't scratch your head, rather use the global permission settings under the Tools sub-menu in Ninja Tables. There you should be able to allow Ninja Tables to other user roles.

This is how you can control your users by implementing this awesome feature of Ninja Tables. Return ⏫
12. VIP Support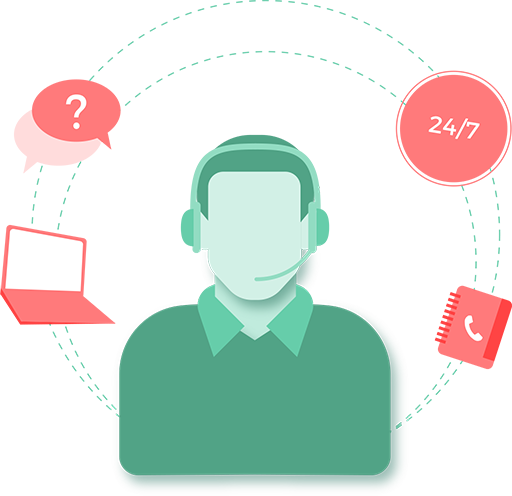 Every now and then you find yourself in a deadlock. You want something specific that you cannot achieve with the Ninja tables. It's alright, it happens to the rest of us too. Buying Ninja Tables Pro version moves you up to the elite users whose query and problems are our top priority. Without getting so much into technicalities, we can guarantee your issues to be resolved in no time.
If you take a look at the reviews of Ninja Tables in WordPress official site, you would understand the worthiness of the plugin.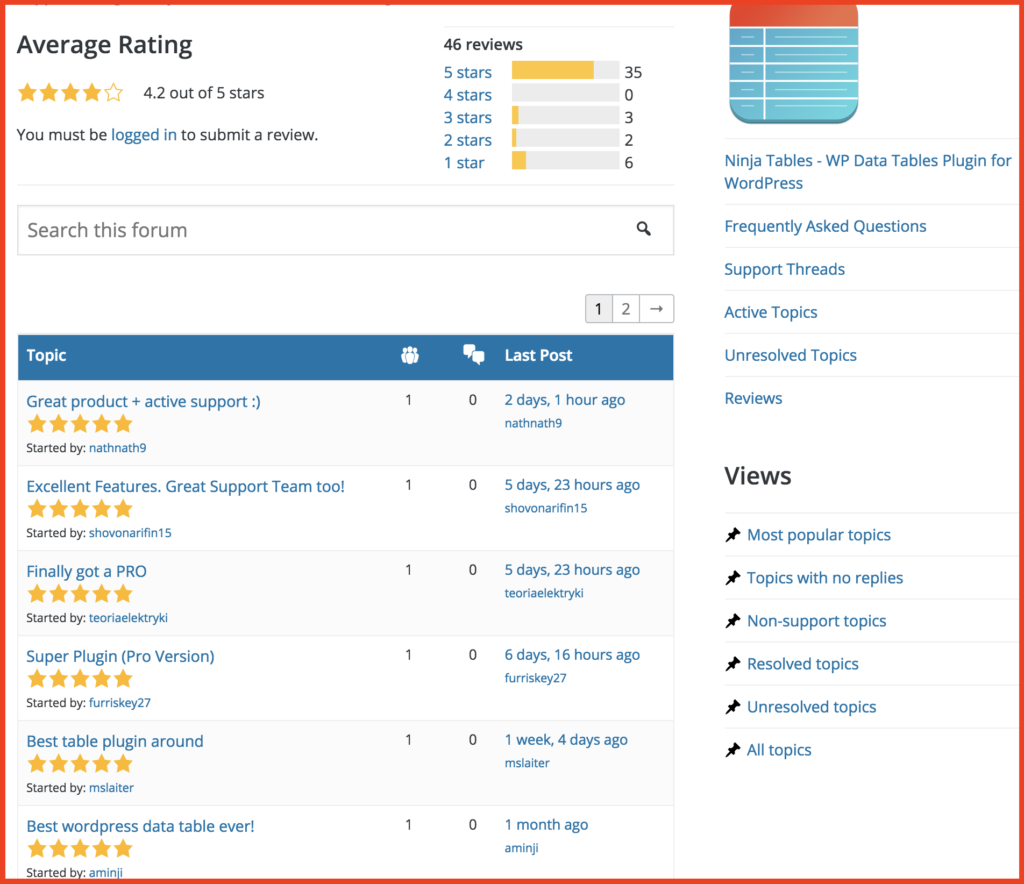 The above image shows the impacts of Ninja Tables on its users, they are quite satisfied with the services they provide to their users. Return ⏫
How Much Does Ninja Tables Cost?
Along with a free version, Ninja Tables usually offers 3 pricing plans for its users. They are given below:
Yes, Though TablePress is free it's ok for basic usage. Moreover, if you are using TablePress, you can still migrate all the table data into Ninaj Tables very easily. At the end of the day, I want to say that it's a worthy plugin as you get what you pay for.
Final Thoughts
According to the current growth of the table plugin, Ninja Tables is doing great in the plugin industry. It has over 10,000 active users at WordPress directory and has maintained a decent rating that indicates its worthiness. Moreover, the plugin is growing fastly as you can see its fast download chart on the WordPress directory.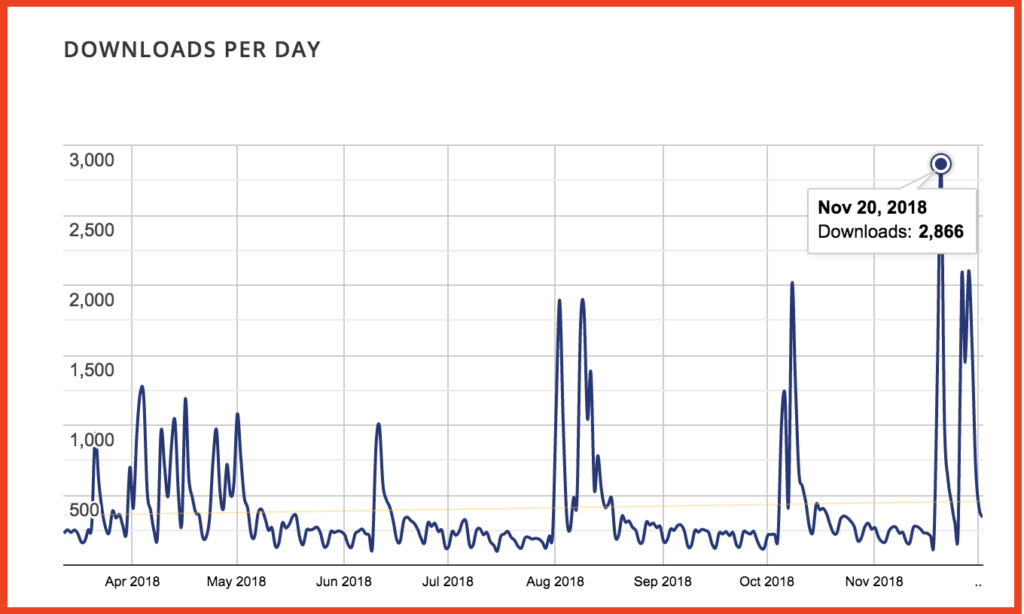 For me, I would highly recommend you to try Ninja Tables at least for testing purpose. After giving a test drive you would realize the reality of my aforementioned words. So, let's get started with the Ninja Tables!
Conclusion
In fine, It can say that Ninja Tables plugin is a feature-rich table plugin for WordPress. Best of all – the plugin has the free version! You can go for the free version in order to have a test drive on your site.
Hopefully, the article helped you by providing a value regarding the WordPress table plugin. If you are already using any other plugin, feel free to share your experience or if you are using Ninja Tables, let me know your experience using the plugin. I would love to get back to you as soon as possible.