Before starting with anything of this Astra theme review, I would like to admit that I have been using the Astra theme in two of my blogs including this one. So, what I'm going to share with you will be the gist of my personal experience with this awesome theme.
Astra is a powerful multipurpose theme for WordPress users. This is quite a simple and customizable theme developed by Brainstorm Force. Not just that, this theme is SEO friendly and fast which will make your life easier.
The most important of Astra Theme is its lightweight compatibility as it takes less than half a second to load. Moreover, the theme is built with SEO-friendly performance in mind.
Astra pro theme is a multipurpose add-on for the free Astra theme. This add-on is a plugin that needs to download and installed separately into your Astra core theme.
The add-on extends the capacity of the core Astra theme by adding more advanced features and functionalities without hampering your site performance.
Sometimes, it's been experienced that some users complain after using multipurpose themes. Due to having tons of features in a single theme would complicate things and it may not appear in a user-friendly way.
But the good thing is Astra free theme and Astra pro theme dealt with the issue smartly. Each of the features is set up as a distinct module though it offers many advanced features altogether.
Modules | Astra Free Theme
Astra free theme offers you 8+ modules that comprise a number of advanced features and functionalities to boost your site. What you need to do is just activate the module you want, and enjoy the features within it. Here is a brief demonstration of the modules of Astra free theme: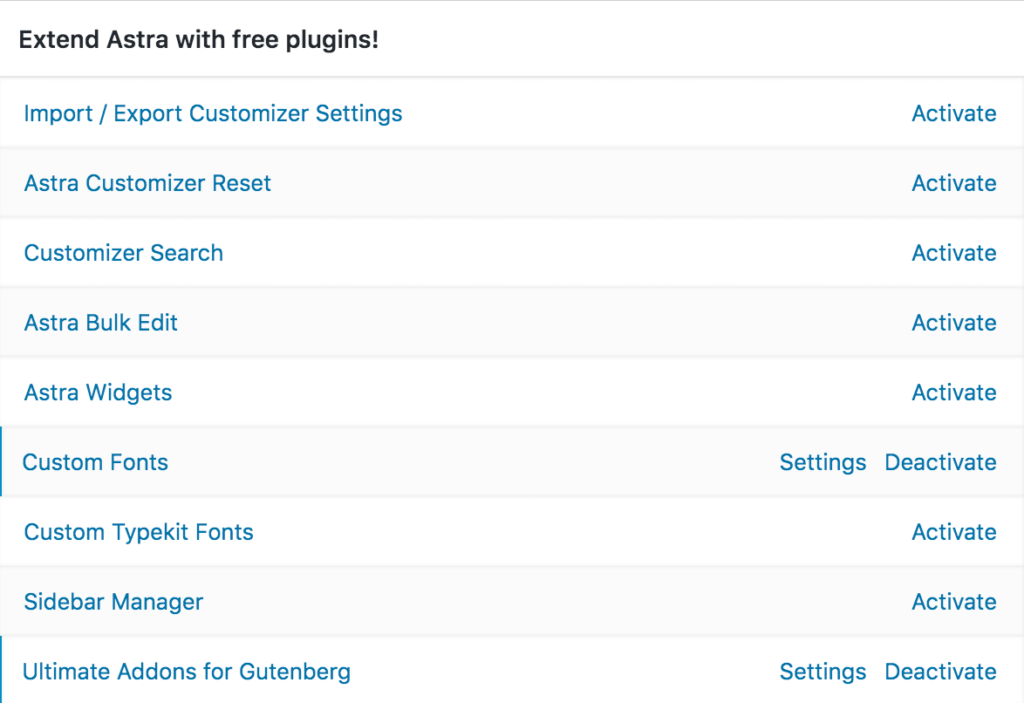 Import/export Customizer: Import/export customizer offers numerous settings for sidebar and blog designs, header/footer layout, typography, colors, backgrounds, and much more.
Customizer Reset: You can reset all customizer settings with a single click of the reset button. Clicking the reset button will set Astra theme customizer options as default.
Customizer Search: Using this feature you can save time and frustration while finding different options. If you need to search for the setting for customizing that you're looking for and you can get it there instantly.
Astra Bulk Edit: If you want to enable or disable the page title from multiple pages and make it full width, then this Astra free theme can serve your purpose. This awesome feature is useful for editing Astra Meta settings on a number of pages/posts at once.
Astra Widgets: Do you want to add widgets for particular information? Yes, you can make it happen by using the Astra theme. Moreover, you also can fetch these widgets anywhere on your website.
Custom Fonts: Who doesn't want to make fonts as they are? Astra free theme allows you to do the same using this feature. This module helps you easily embed custom fonts files in different formats(woff2, woff, ttf, svg, eot, otf) on your website.
Custom Adobe Fonts (Typekit): If you need to have adobe fonts on your website, this Typekit module helps you easily embed adobe fonts easily in your WordPress website.
Sidebar Manager: Sometimes you need to display a relevant, as well as different sidebar on certain pages on your website. If you're concerned to manage those sidebars, this module will help you out without facing any hassle.
Installed Gutenberg Blocks: This is super exciting to have tons of Gutenberg blocks in one place. Ultimate Addons for Gutenberg is one of the popular Gutenberg block plugins, with Astra free theme, you can able to use those necessary blocks in your website.
Why Should You Choose the eCommerce Store?
There are a number of aspects that you can consider in order to choose Astra Pro theme for your eCommerce business. Let's take a look at some of them:
Loading-fast theme ever: Loading a fast website keeps visitors on your site and it increases the overall conversion rate of your business. It also decreases the bounce rate of your website.
Website speed is one of the prime concerns for each webmaster or site owner. As both the Astra Pro theme and free as well as the lightweight in type, it takes no time to load your site when users visit your website.
More customizations: The more you get the freedom to organize your store, the more you can make it as your own. Astra pro theme will provide you with more customization facilities that you need to have for your WooCommerce store.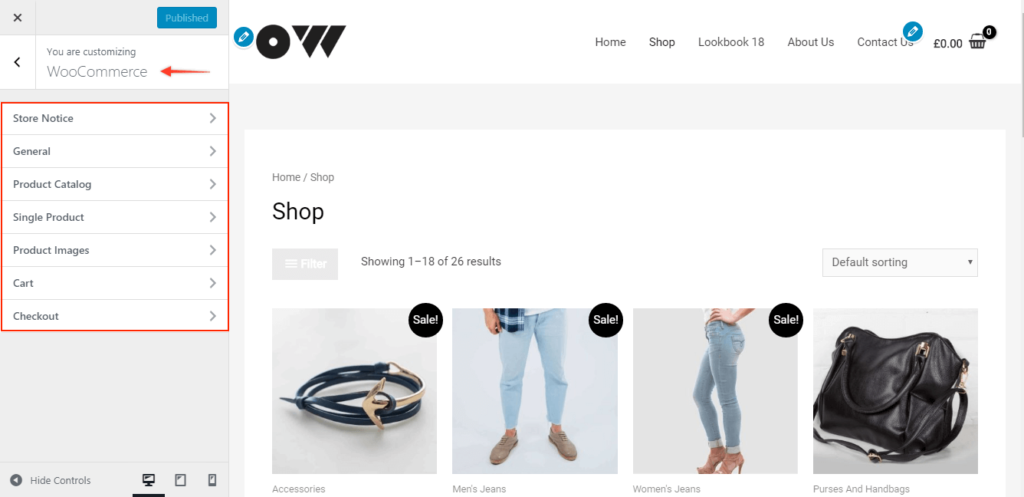 If you want to make your online store distinct from others, you can customize it in a different way. Astra pro & free theme will help you out to get a distinct way in order to customize your online store in an exclusive way.
Astra security: Astra Theme is developed based on clean code and it ensures a security standard for your online store. Moreover, the theme is updated constantly with the necessary improvements. You will have the required security integration with security plugins as well.
Smooth checkout for conversion: Conversion is the ultimate aim of running a stable business. UX & UX plays a key role in high-performing websites. A poorly designed checkout page could be the reason for cart abandonment.
Astra pro theme can do a lot in this regard by proving you smart ways to cut your cart abandonment rate. You can make your checkout page optimized for conversion on your website.
Modules | Astra Pro Theme
Astra pro theme has dealt with more issues as compared to the Astra free version. Here you will get more advanced features and functionalities as an exclusive module like a free one.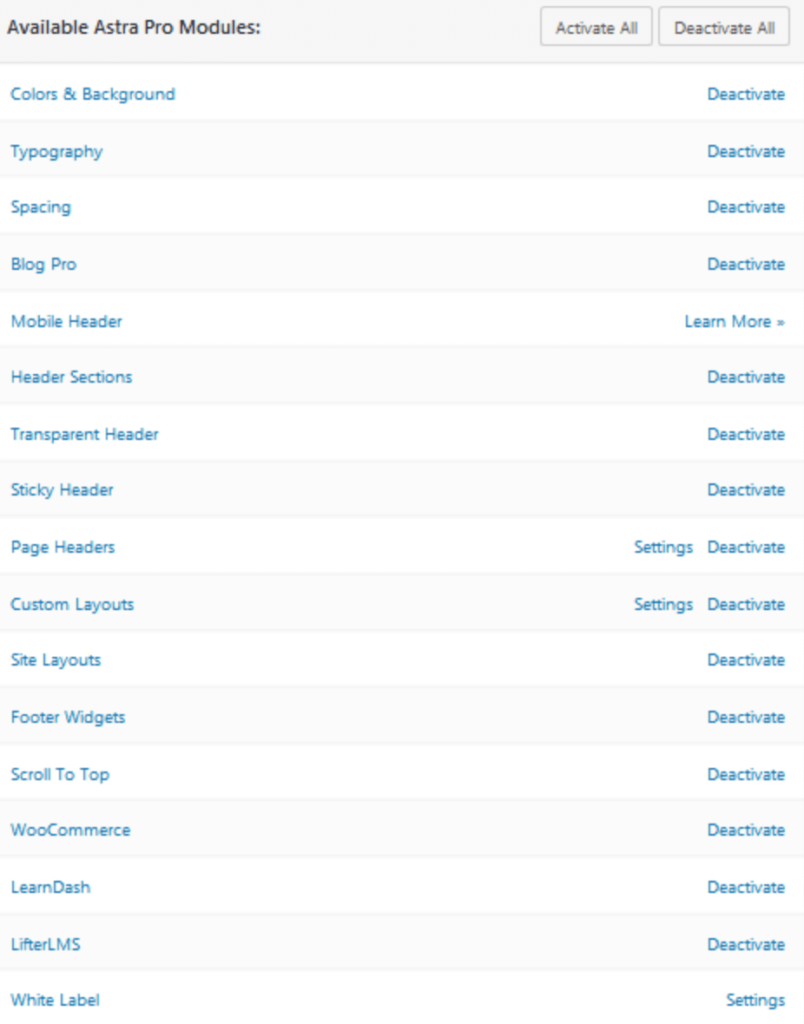 But to use these pro features in the form of a module, you have to have the Astra theme along with the Astra Pro Addon installed on your WordPress site. Here, take a short look at the modules of Astra Pro theme:
Colors & background: Basically this is a premium feature available with Astra Pro Add-on plugin that will help you to manage different color options. Using this feature, you can keep a uniform color scheme on your website with some global color options.
Typography: This premium module will help you to manage the typography manually stying at the page builder's element level. In this case, managing typography from the default theme options could be the best option for you.
Spacing: This is a premium feature available in Astra pro theme. To have this feature, you need to install the Astra pro-add-on plugin in your Astra theme. With this feature, you can manage the margin and padding for different elements in your Astra theme.
Blog pro: Using the feature, you will get basic options to style the single blog page and blog archive page as well.
Mobile header: After releasing Astra version 1.4.0, it launched a new feature named mobile header. The feature is used to design mobile headers individually in order to achieve responsiveness.
Header sections:  This module introduces two header sections named Above Header and Below Header located in the website header section.
Nav menu: Using this awesome feature, you will get mega menu functionality. It means you can create a multi-column menu on your website.
Sticky header: This smart tiny feature of Astra pro theme is used to fix the header issues in the top portion of your webpage. It arises when a user scrolls the page and faces the header issues. The sticky header option allows instant access to the menu staying from any part of the page.
Page headers: If you want to design an attractive Page Title/ Page Header area with breadcrumbs, and background color/image; then this feature can serve your purpose. Using this feature, you can also design a site header to suit your page header design on a particular page.
Custom layouts: Using this powerful module, you can get numerous customization facilities. For instance, creating a custom header, footer, 404 pages, and custom content or code on various hook locations as well.
Site layout: With this powerful module, it's easy to manage the overall layout of the WordPress site. In this case, the layout you choose will be applied to the outer wrapper of your website.
Footer widgets: This charming module of Astra pro theme allows you to add seven different footer widget layouts to the website footer section.
Scroll to top: If you want to load your product pages dynamically with a seamless scroll down option, then this module can fulfill your expectation. Moreover, this Astra pro theme feature helps to add a dynamic scroll and takes away the pain of scrolling right to the top you see when you're heading towards the end of the page.
WooCommerce: You can get the WooCommerce integration with the free Astra theme. But this premium feature will give powerful and more advanced styling options for decorating your online store. We'll talk more about it in the latter part of this article.
Easy Digital Downloads: We have seen an Easy digital download plugin that can be installed with Astra free theme. But if you want to scale the EDD plugin, this feature will help you out by providing exclusive styling options for your EDD store.
LearnDash Integration: This module works with the integration of the leading LMS plugin LearnDash. Though LearnDash version 3.0 offers two types of templates. But Astra Pro options allow you to use only Legacy mode.
LifterLMS Integration: For this awesome feature, make sure that you have the LifterLMS plugin installed and activated on your website.
White label branding: This powerful module means a lot, the module denotes the ability to rename and present a product as your own. Instead of using the actual identity of the theme and plugin you used earlier, this module lets you use your brand name.
Astra Pro Theme for eCommerce
As the demand for eCommerce-based business is growing day by day, the use of theme for creating online stores is also increasing. If you are so much concerned about choosing a theme for your eCommerce business, then Astra pro would be the great choice for you. Using the Astra Pro theme, you can make your store more stylish with minimal effort.
Due to having default WooCommerce integration with Astra pro theme, you will get a huge environment for using WooCommerce plugins. With the rock-solid foundation of loading-fast compatibility, the most user-friendly shopping experience can be found for your eCommerce store.
More Astra Pro Features
Choosing Astra pro could be the best bet for you in so many ways. There are a number of enticing advanced features that you can get in Astra pro theme, especially for eCommerce stores. You can organize your store gallery, and optimize your landing and checkout pages for having a wonderful UX.
Quick view: Astra pro theme will let your clients preview the expected product without opening a new page. It also allows you to select various options in order to show a better view that ultimately increases your conversion rate.
Checkout Options: If you don't like the default one-step checkout, you need not worry as there are plenty of options like a two-step checkout, destruction-free checkout, and so on. That means you can enhance the checkout experience of your online store.
Off-canvas sidebar: This option is designed for providing a better UX for your online store in your Astra pro theme. Advanced filter helps to find the products rapidly you're looking for. You can add quality filters and widgets in the off-canvas sidebars to make it more convenient for your users. This sidebar remains out of the screen initially, but you can trigger it through a button or link.
 Optimized Widget: With Astra pro theme, the widget optimization facility on an online shop makes things easier than ever. You just need to drag & drop the widgets you like to add them in the off-canvas sidebar. Astra pro theme provides you with a number of numerous widget facilities like Address Widgets, Info List Widgets, and Social Icons Widgets.
Advanced Header and Custom Layouts
Though the Astra fee theme provides limited header options, using Astra pro you can extend the scope. Astra pro theme comes up with a lot of header options like Sticky header, Transparent, Primary header, Above header, and Below header.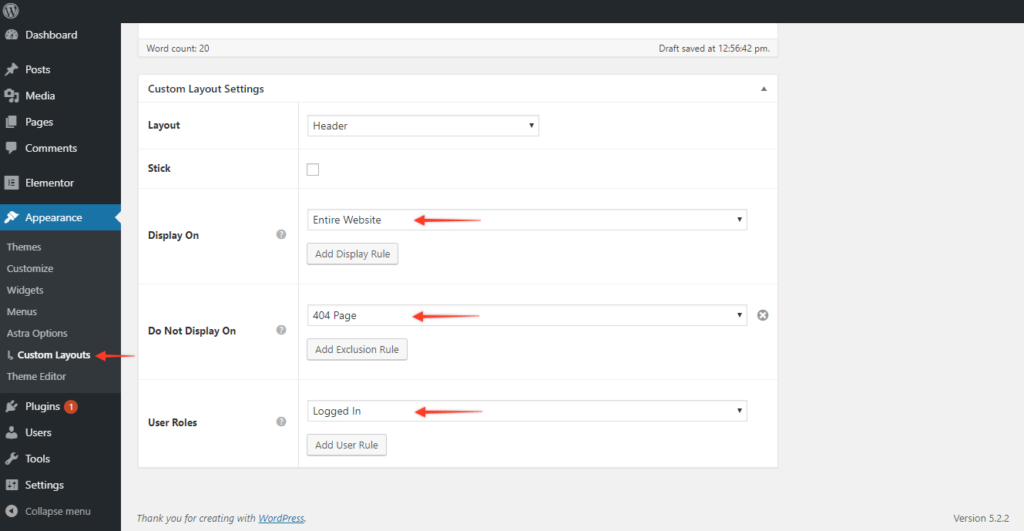 Moreover, you can design a custom header using the Custom Layout module available with the Astra pro theme. You can get more layout options for Sidebar, Footer bar, and Footer widgets too.
Dedicated Customer Support
Brainstorm Force, the team behind the Astra theme, Ultimate Addons for Elementor, Convert Pro, Ultimate Addons for Beaver Builder, and Schema Pro is a popular product development company for its customer support facility. Whether it's an Astra pro theme or a free one, they have an organized support facility for their users. They offer the fastest customer support as it's needed for their users. If you are an Astra user and face any problem, just submit a ticket with the details, they're likely to reach you back as soon as possible.
Usually, the team offers three types of support facilities, Pre-sales Queries means pre-purchase query about their products, pricing plans, bundles, and so on. Pro Support is provided for Astra pro theme users means when you're a paid customer who purchased products; then, you will have the advantage of their premium support. Free Support is provided when you are a free product user.
Extensive Documentation Facility
If you face any problem using the Astra Pro theme, or even a free version, you can get written documentation on their official website. When they release a new feature, they try to make sure an article explains it well to their users. Moreover, you will get tons of visual guidelines on YouTube published by different channels.
Astra Pricing
 As the Astra Theme is freemium in type, you can get the theme for free, but if you want to extend the features, you can upgrade your plan to the Astra pro. The Premium version consists of three types of pricing plans, and they are as follow:
Annual License
| Astra Pro | Mini Agency Bundle | Agency Bundle |
| --- | --- | --- |
| $59 $41 | $276 $169 | $523 $249 |
Lifetime License
| Astra Pro | Mini Agency Bundle | Agency Bundle |
| --- | --- | --- |
| $249 | $996 $499 | $1893 $699 |
It seems that the Astra Pro theme comes at a reasonable price and most importantly, it provides you with so many options – so it seems that it's probably worth it.
??? Note: Currently, the Astra Pro theme is offering a special discount on celebrating the 800,000+ active installs milestones for its potential users.
A Couple of Drawbacks
There aren't any strict demerits of the theme, I could say, you will get a limited amount of blog layout options available in the theme. Though 50 blog layouts are there, only 5 layouts are available solely for blogs. It would be a nice thing if the layout options can increase in the future. Many affiliate marketers and bloggers use different blog layouts for serving their purposes.
Another drawback could be that you can have ten different customization options on ten different pages. Sometimes it may seem like too many options for customization that might appear in a confusing way. You might be felt lost due to having too many options.
Final Verdict
If you see the current WordPress themes around the market, you will find Astra is growing faster than others. To have a customizable and accessible WordPress theme, choosing Astra wouldn't be wrong at all. Furthermore, their public roadmap shows that they're constantly working to improve the theme for the users.
If you look at the user reviews of the theme in WordPress.Org, you will get an idea of the practical use case of the plugin. There are some bad reviews that happened in the initial days. Now, you can see 3595 five start reviews with 800,000+ active installations, that's pretty handsome!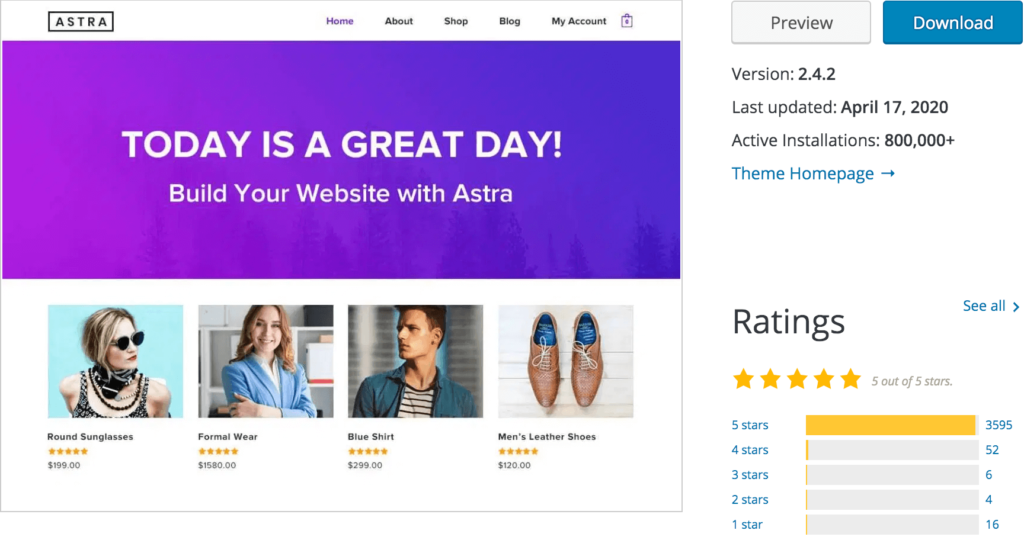 The theme is SEO-friendly and compatible with most of the leading page builders out there in the market. The most important aspect of the theme is it only takes 50kb of space to run your site within half a second duration. Moreover, the Astra Starter Sites plugin provides you a smart opportunity to explore dozens of pre-built templates that could be the right fit for you.
In conclusion, I would say if you are still confused about the Astra Theme, better you can compare all the aspects of the theme with other themes out there in the market. Hopefully, you will be able to get a solution then. Even if you want to use the free qualified them, I would highly recommend you to use Astra for serving your purposes.