Bloggers struggle to connect with other bloggers because most try to connect from:
greedy
selfish
self-centered
dishonest
manipulative
intents. Of course no one wants to connect with you when you are trying to use them to get what you want! My email seems littered with messages of some blogger or broker trying to get something out of me FIRST, then, asking how the person can help me or stressing the benefits of our alleged partnership.
For example, bloggers often pitch me to guest post on Blogging From Paradise. In 99.99% of cases, these bloggers are strangers. We have no connection. We have no bond. The bloggers did not earn my trust by helping me out and asking for nothing in return. The bloggers did not gain credibility in my eyes by doing something for me with no expectations attached. How do I frame their blind pitch from a stranger? Flat out, someone intent on scoring a backlink, traffic and business through:
a high traffic blog
a well-read blog
a respected blog in the blogging tips niche
a high DA blog
wants to GET all of those benefits by GIVING a single, helpful guest post. Does that sound like a fair trade to the blogger – aka me – who worked for 12 years to build a high traffic, well-read, respected, high DA blog? Does 12 years of blood, sweat and tears sound like a good trade-off for 20 minutes of writing and publishing a guest post? Nope. But this is exactly why most bloggers struggle to connect with fellow bloggers. Most bloggers blog from fear. Blogging from fear makes you greedy, selfish, self-centered and delusional. Blogging from fear makes you think only about yourself versus thinking from the perspective of the blogger you are pitching via your blind, stranger-danger pitch from someone who has no connection, no bond and no goodwill, in terms of your relationship.
David Boozer is a skilled blogger and internet marketing veteran who literally purchased all of my blogging tips eBooks, who bought my blogging course and who hired me to coach him. Why did we build a connection immediately? He bought like everything I had to offer, LOL! He also yields serious blogging skills. Combining his support and skills, David and I bonded deeply quite quickly. But that is just the starting point; David began promoting me to his following diligently, spreading my word. What happened then? Skilled bloggers and online marketing veterans like Alonzo Pichardo found me. Alonzo kindly asked me to chat with him on his YouTube channel and via his podcast.
Guys; connecting with successful bloggers gets easier and easier if you put your needs to the side, act naturally, be generous and allow your friendships to form organically, naturally and seamlessly. Every friend of mine who has generously expanded my blogging success did so in organic, natural, relaxed fashion. I never held a gun to any one of these folk's heads to do anything for me. We just helped each other with no expectations, like friends do, and our traffic and businesses grew from there.
But everything unfolded in organic, pleasant fashion because we all connected through generosity and detachment, not greed and attachment. David generously promoted me and bought all my blogging tips stuff. I began promoting him and invited him to guest post on my blog. David's generous promoting of me introduced Alonzo and I; we chatted for a bit, and from there, I began promoting him, he invited me to guest post and he also generously invited me to chat on his podcast and YouTube channel. Alonzo also kindly bought a bunch of my audio books and mentioned the audio books to his following, as did David, with my eBooks.
You will have zero problems connecting with other bloggers if you are generous, genuine, patient and persistent.
eBook
Do you need help with blogger outreach?
Buy my eBook:
13 Tips to Make Your Blogger Outreach Campaign Sizzle
---
If you haven't joined Allrounder Blogging Community yet, do join ASAP and follow us on Twitter and Facebook to get exclusive content on a regular basis.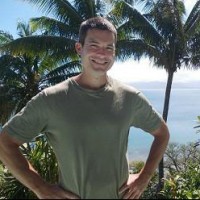 Ryan Biddulph
A Blogging Geek from Paradise.
Ryan Biddulph inspires bloggers with his 100 plus eBooks, courses, audiobooks and blog at Blogging From Paradise.