Sazzadul is a pro's pro when it comes to grabbing the attention span of a pro blogger.
He snared my attention and inspired me to guest post regularly on his blog.
How?
He showed me love. Easy peasy for some bloggers but most get so caught up in focusing on themselves that they rarely show love to top bloggers, let alone any blogger other than themselves.
How to Attract Influential Bloggers
The simplest way to succeed in grabbing my attention span is to help me out and to expect nothing. Prove you have a genuine interest in me. Prove you are not solely interested in what I can do, for you.
Follow these tips to grab the attention span of top bloggers.
Like Facebook Updates Persistently
Sazzadul is a pro at this one; every time I turned around, he Liked another one of my Facebook updates. Every Like grabbed my attention because organic Likes increase my exposure. He also proves he loves my work. I love my readers. Naturally, I clicked through to his profile to learn more about him; he effectively snagged my attention span, fast.
Like updates from top bloggers you enjoy following on Facebook. Spend a split second Liking updates you dig. Follow this easy, simple to follow tip to pop up on the radar screen of pro bloggers.
Comment Genuinely on Top Blogs
I have granted guest posting rights to a handful of blogging buddies I met through blog commenting. In most cases these folks published mindful, in-depth comments on Blogging From Paradise. Talk about a powerful attention grabber. If you set aside 3 to 5 to 10 minutes to read my post, to watch my video, to listen to my podcast and to genuinely share your thoughts on my blog, you slowly but surely worm your way into my heart, with each successive, genuine blog comment.
I click through to learn more about generous blog commentors. You better believe you grab my attention by using this simple, powerful strategy for networking with top bloggers.
Comment mostly on top blogs from your niche to honor the "birds of a feather flock together" rule. Top bloggers are time-starved. Pros only have time to network with fellow bloggers from the same niche, in most cases. Blogging tips bloggers would be wise to comment on blogs like problogger.net and bloggingtips.com.
Buy Courses and/or eBooks
I vividly recall a respected blogger who bought my course and blog commenting eBook. She rocketed to the top of my blogging buddies list because anybody who invests money in my premium offering shows the type of boldness, clarity and flat out love, that I admire.
Let's face it; most bloggers fear spending or losing money. Bloggers who arrest my attention tend to invest money in my coaching, courses, eBooks, audio books and paperbacks, effectively knifing through or flat out, not being prone to this fear.
Invest money in a pro blogger's premium offerings to stand out from the crowd and to grab their attention span. Based on the nature of your blogging partnership, this may be one of the best investments you make online.
Offer Guest Posting Rights
Sazzadul reached out to me a while back to offer me guest posting rights on his blog. I took him up on his gracious invitation because he grabbed my attention with his kind, generous act.
I deeply appreciate all bloggers who invite me to guest post for them because said bloggers generously give me the keys to their blog. Anybody brimming with that level of kindness makes me take notice, big time.
If you want to really grab the attention span of any top blogger, invite them to guest post on your blog. Some will take you up but most will tend to remember the kind, generous blogging act.
What Not to Do
Avoid cold pitching pro bloggers through email or social media. Strangers rarely if ever grab my attention because I do know them or trust them. How can you impress a blogger who has seen such cold, non-genuine pitches thousands of times before? Nobody grabs my attention with cold pitch emails; I usually label said emails as spam or junk and move on, or perhaps I respond with a link to my networking eBook.
Never spam comment to grab a pro blogger's attention by dropping your business link in comments or by publishing generic, lame comments obviously designed to put the attention on you.
As a rule of thumb, the more you focus attention on a top blogger and the less on yourself, the greater a chance you have at snaring their attention and becoming friends with these pros.
A little bit of mindful generosity and kindness goes a long way in building friendships with powerful bloggers.
You can do it. You can grab the attention span of virtually any pro blogger but you need to make it all about them, not about you. This is the secret of influencing pros to notice you and to connect with you.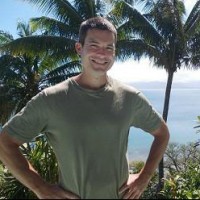 Ryan Biddulph
A Blogging Geek from Paradise.
Ryan Biddulph inspires bloggers with his 100 plus eBooks, courses, audiobooks and blog at Blogging From Paradise.