I woke up today with access to a few blogs for guest blogging.
How does that sound?
But I have access because I made blogging buddies. I made blogging buddies because I spent time helping bloggers. I did not ask for links in return. I asked for nothing in return. I helped bloggers. Bloggers bonded with me. We became friends. Friends help each other. My blogging buddies make my life easier by:
promoting me
endorsing me
buying my stuff
inviting me to guest post on their blogs
Do you see why blogging gets easier with blogging buddies? Blogging friends expand your success. Publish one blog post. Blogging buddies tweet the post. Blogging buddies share the post on Facebook. Blogging buddies link to the post. Each share, tweet and link increases your blog traffic easily. Did you stay up for 24 hours to promote the post on your own? No. Blogging buddies promoted the post for 24 hours, 36 hours and for weeks, around the clock. Blogging friends do what one blogger cannot do. Blogging friends make life easier. Blogging friends make blogging easier.
Publish a guest post. Friends spread the guest post for you. Perhaps you share the guest post to Facebook. Blogging buddies see the post on Facebook, share it and their readers visit your guest post. Some readers visit your blog. Blogging friends increase your blog traffic because friends work on your behalf around the clock. I can only do the work of one human being. But 20 blogging buddies do the work of 20 human beings. Influencing 20 humans to work on your behalf makes blogging easier.
However, influencing people to befriend you requires genuine, generous blogger outreach. Help bloggers freely. Comment genuinely on blogs. Promote bloggers through your:
blog
Facebook
Twitter
LinkedIn
Earn trust. Practice writing. Be a skilled, confident, clear writer. Increase your credibility. Make blogging buddies.
Make networking genuinely a lifetime commitment. Networking never ends for connected bloggers. But the upside of networking outweighs persistent effort; networking generously long term makes blogging easier and easier over the long haul. Imagine 20, then 30, then 50 bloggers promoting you around the clock through multiple channels. Picture how much targeted traffic flows to your blog through 50 blogging communities. Imagine all the channels through each community. One blogger promotes your post through Facebook and LinkedIn. Another blogger promotes your post through their blog and Twitter.
Picture the steady traffic stream blogging buddies drive to your blog 24-7, 365. Network genuinely. Be generous. Allow blogging buddies to bond with you. Put in the time. Put in the effort. Get connected. Let blogging become easier for you. Never make blogging tougher than blogging already is. We all face resistance. Blogging feels like an uphill climb during newbie days. Networking makes blogging more like a level walk. Blogging buddies carry you when you need rest.
On waking tomorrow, a crew of blogging buddies will have retweeted my latest blog posts. I sleep. My friends retweet my posts. I rest. My friends increase my blog traffic. Blogging buddies make life easier. But bloggers work to earn blogging trust. Trusted, genuine bloggers get connected. Connected bloggers influence buddies to increase their traffic and profits around the clock.
Think of blogging as a team sport. Never see blogging as a solo act. Solo acts flame out fast. Blogging team work makes the blogging dream work. Observe my guest posting campaign. My blogging buddies made it possible. My blogging buddies expand my presence. But only because I made blogging buddies in the first place. Be generous. Be genuine. Be persistent.
Become a connected blogger.
Make your blogging life easier.
eBook
Do you want to know how to network the right way?
Buy my eBook:
13 Steps to Become an Unstoppable Networking Machine
---
If you haven't joined Allrounder Blogging Community yet, do join ASAP and follow us on Twitter and Facebook to get exclusive content on a regular basis.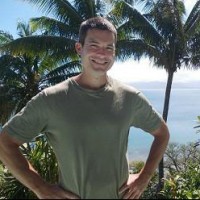 Ryan Biddulph
A Blogging Geek from Paradise.
Ryan Biddulph inspires bloggers with his 100 plus eBooks, courses, audiobooks and blog at Blogging From Paradise.