Listen to pros.
Address your blogging struggles. Address what you do wrong. Correct the error by following professional blogger advice.
I had lunch with a highly successful professional blogger years ago. He noted guest posting 1-2 times daily every week. I figured he had been guest posting 30-60 times monthly for a long time. Wheels turned in my mind. I experienced muted success at times but needed a little push in a more successful direction. The pro blogger revealed an idea to me I had not pondered. I guest posted here and there. But he mentioned guest posting to build friendships and to keep building your link profile. I never thought of guest posting in such fashion. A pro blogger opened my eyes.
Obviously, I never looked back. I engaged in a prolific guest posting campaign. This professional blogger opened my eyes to possibilities. He showed me what could be possible because he revealed what I had overlooked for quite a long time. My less successful pro blogger eyes did not see what his more successful, more abundant, pro blogger eyes, saw. Simple. But why do few bloggers who struggle seek pro blogger advice? Ego can be a genuine jerk. Ego is an idiot. Ego prefers struggling to keep itself whole, intact and undamaged. Meanwhile, as your failures and struggles build, life gets worse and worse. Blogging becomes a nightmare because you refuse to follow successful blogging advice from successful bloggers. Makes no sense to me. But still, bloggers err, struggle and try to wing it, failing for years, when listening to pros ends your struggles, now.
Where do you struggle blogging-wise? Have you asked a professional blogger to check out your blog? Do you follow their advice diligently? Do you follow them at all? Life does get easier if you follow advice from successful professionals in your niche. Put your ego to the side. Stop resisting help. Admit that you do not know it all. Admit that you may have no idea what you are doing. Blogging humbles every blogger at one time or another but only fools need humbling again and again and again, before fools get the message, ask pros for help and dissolve their struggles for good.
Don't be a fool. Look for a professional to follow. Invest money in their courses. Buy their eBooks. Do you need to strengthen your blogging mindset? Do you need to think more like a pro blogger? Buy my blogging mindset eBook. Benefit from my experience. I put a good 7 years of blogging experience into the eBook. I had that level of experience before I wrote the eBook. If you have little blogging experience or if your experience seems dripping with struggles, why bother pushing forward from an ignorant, flailing energy?
Pros gratefully help humble bloggers keen on investing in their advice. Use these valued resources. Humble yourself. Professional bloggers can end your struggles in a heartbeat but you better be open to these folks to receive their advice. Do not be an idiot enough to believe that you know better. Be quiet, open your eyes and ears and learn from skilled, experienced, professional bloggers. Pay close attention to success to leave your struggles behind for good.
Everything changed for me the moment I chose to follow pro advice and backburnered all failing tactics I had been following for a bit. No one succeeds by following failing advice. I also chose to surround myself only with successful bloggers. Failing, spamming bloggers had no place inside of my blogging friend network because why would I allow failure to infect my mind, and to infect my success?
---
If you haven't joined Allrounder Blogging Community yet, do join ASAP and follow us on Twitter and Facebook to get exclusive content on a regular basis.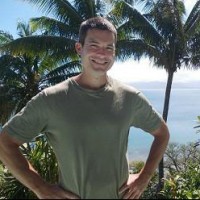 Ryan Biddulph
A Blogging Geek from Paradise.
Ryan Biddulph inspires bloggers with his 100 plus eBooks, courses, audiobooks and blog at Blogging From Paradise.