Do you fear the blogging competition?
No need to worry about your blogging neighbor if your blog stands out.
Blogging is neat because every blog stands out if you keep a few basic ideas in mind. Stop comparing yourself to other bloggers. Begin crafting a genuine blog guaranteed to wow readers and to step away from the blogging herd in your niche.
Follow these tips to make your blog stand out.
Buy Your Domain and Hosting
Invest in your domain and hosting. Standing out from the crowd is simple if you take this step. Why? No one can use the same domain name as you. I own Blogging From Paradise Dot Com and no one else can use it so I cannot be copied by anybody domain-wise, and, I stand out from the crowd.
Never use free blogging platforms because your domain name is THEIR domain name. No way can you stand out from the crowd by looking like the crowd and by mimicking their domain name, on a free blogging platform.
Invest money in a premium theme. Be unique. Be different. Paying for a premium, or, even better, a bespoke them, helps you distance yourself from the blogging herd. I have a bespoke theme to be one of a kind in the online world. No one can copy my theme because my developer created the theme to be me, to be genuine, and to be one of a kind. Win-win for both of us.
Invest money to stand out. Build a genuine blogging brand. Buy a premium or custom theme.
Practice Writing
I write either simple and direct or colorful and funny, or dramatic. People often know immediately I wrote a guest post. Even if my name did not pop up in the author field, readers know my one of a kind writing voice. Why do I stand out in such fashion? I practiced writing millions of words. Of course, I found my writing voice.
Are you having difficulty finding your writing voice?
Buy my eBook:
How to Find Your Writing Voice
Keep writing. Practice persistently. Stand out from the blogging crowd.
Be Generous to Make Friends
I ignore 90% of emails because strangers email me. I lump these folks into the mass crowd of blogging strangers looking from the outside-in. Save sending them a link to my eBooks I just ignore blind pitching bloggers because nothing makes a desperate or greedy stranger stand out from the crowd.
Do you know who I respond to? Generous blogging friends who help me out persistently. Sazzadul has been Liking my blog posts and videos on Facebook for months. We bonded through his generosity. I eventually took him up on his guest post invite because his generosity made him stand out from everybody else, as is the case with all of my blogging buddies.
Be kind. Promote fellow bloggers. Endorse fellow bloggers. Support fellow bloggers on social media. Comment genuinely on blogs. Stand out from the masses of desperate, greedy, self-centered bloggers by being kind, warm and generous.
Be Prolific
I cannot tell you how many people find me through the hundred-plus eBooks I wrote and thousands of blog posts and guest posts I wrote. Some people think I have 50 other Ryan's working in my blogging company. Alas, it is just one guy. I am super prolific to have fun helping folks but creating content generously also helps me stand out from the herd of bloggers who hold back, rarely creating content.
I suggest falling in love with creating and serving. At 12:45 PM on this day, I have published 3 blog posts and this is my 1st guest post. By midnight, I will have published 10 or more posts between blog posts and guest posts, to spread the word and to have fun and to distance myself from every other blogger in the blogging tips niche.
Be generous, be prolific and you will be an influential commodity in your blogging niche of choice.
Stop Parroting Other Bloggers
I see some SEO bloggers who appear to be Neil Patel clones. How can you stand out if you are trying to be Neil Patel? Please learn from that SEO genius but do not copy him and his one of a kind style. Only Neil has a license on that style. Your job is to be you and to allow you to bleed through your blog.
No 1 of the 300,000,000 blogs online is remotely like my blog because I blog from my heart and never try to be anyone else but Ryan Biddulph. I share simple tips sometimes. Other times, I share humor, even if it gets a bit colorful sometimes.
Be you. Stop trying to be other bloggers and your blog will stand out from the crowd.
Conclusion
Be you.
Blog that person.
Make your blog stand out and accelerate your online success.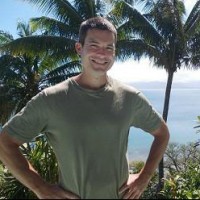 Ryan Biddulph
A Blogging Geek from Paradise.
Ryan Biddulph inspires bloggers with his 100 plus eBooks, courses, audiobooks and blog at Blogging From Paradise.